Technician Fourth Grade Ray Oliver Coffey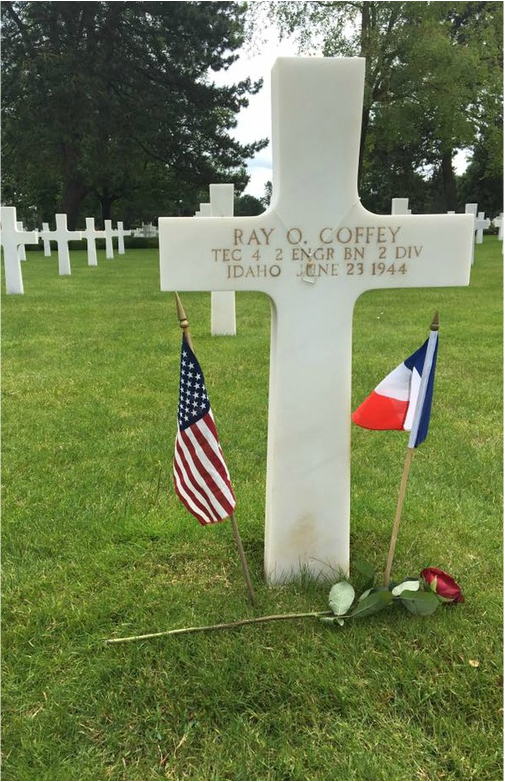 Unit:

2nd Infantry Division, 2nd Engineer Combat Battalion

Service Number:

39827001

Date of Birth:

March 3, 1905

Entered the Military:

April 13, 1942

Date of Death:

June 23, 1944

Hometown:

Boise, Idaho

Place of Death:

near Hill 192, Normandy, France

Award(s):

Bronze Star, Purple

Cemetery:

Plot I, Row 15, Grave 16.

Normandy American Cemetery, Colleville-sur-Mer, France
Contributed by Josh White
Mentored by Mrs. Janelle Gilson
Renaissance High School
2015-2016
Early Life
Ray O. Coffey was born on March 3, 1905 in Colorado to John J. and Edith Iva Coffey. He was the oldest of five siblings, followed by Edith Iva (1907), John Earl (1910), Harold (1913), and Ralph (1917). The Coffey family farmed in Ada County, Idaho on Strawberry Glenn (currently the West Ada Fair Grounds). Coffey's parents were successful farmers and had a large farm. The local newspaper, The Idaho Statesman, reported that Iva won fruit contests and was well-known for her apples. The Coffeys also grew wheat on their farm.
Coffey attended Boise High School, but dropped out in 1922 after his father passed away. As the oldest child, he probably left to help his mother on the farm. Since Ray left before becoming a senior, his portrait was not taken for the school yearbook. Though pictures have been found of all of his siblings, a photograph of Ray has yet to be found. Between 1922 and 1930, Coffey lived in Everett, Washington, where he rented a room in a local home. According to the 1930 census, he worked as a laborer in a garage. However, by the 1940 census, he was living back on the farm in Idaho.
Coffey experienced tragedies in his life. His father died in 1922, then his brother, Harold, died in 1939. Coffey continued to care for his mother until she passed away in 1940. According to the 1940 census, he worked as a laborer in mine construction. He may have been a licensed radio operator as "Roy O. Coffey" (possibly a typo in The Idaho Statesman), passed the test in November 1924 and was rated as an amateur. Coffey's skills in mine construction could be part of the reason that he was tasked as a combat engineer in World War II.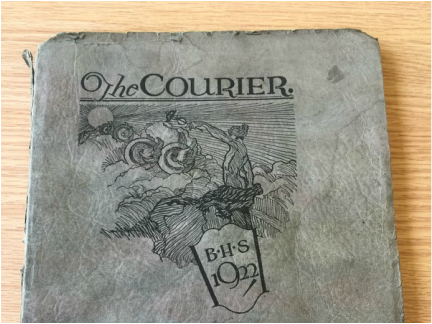 Homefront
During World War II, Idaho had two important air military installations, and surprisingly, a naval installation. When completed in 1939, Gowen Field in Boise boasted that it had the longest landing strip in the nation. In 1940, the U.S. War Department took notice of Boise. Its dry, temperate climate, almost endless space, and an easy approach, made it an ideal training base. The field was also geographically isolated, blocking enemy planes from reaching it, but close enough to major cities in the Midwest. Gowen Field was an active training center for B-17 "Flying Fortresses" and B-24 Liberators. Nearly 15,000 men trained here during the war.
Military Experience
At the age of 37, Coffey enlisted in the U.S. Army on April 13, 1942. He became part of the 2nd Engineer Combat Battalion attached to the 2nd Infantry Division. He was much older than the average soldier.
As part of the build up for Operation Overlord, the 2nd Infantry Division moved to Ireland in October 1943. There, the 2nd Infantry Division spent ten months undergoing extensive training, including building bridges and preparing for assault crossings. On June 7, 1944, D-Day + 1, the 2nd Infantry Division landed on Omaha Beach. Attacking across the Aure River, the division liberated Trévières on June 10, 1944, and proceeded to assault Hill 192. This hill was the highest terrain feature on the road to Saint-Lô, allowing the Germans to observe the movements of the Allied troops. Hill 192 was among the most heavily defended German locations in the entire First Army sector and allowed the Germans to directly fire upon Allied troops.
Troops in this sector had to fight through Norman bocage (hedgerows), made of dense brush and trees, which were several feet wide and several feet high. The hedgerows were almost impregnable. German troops entrenched themselves in the hedgerows, making it difficult for opposing troops to advance. From June 12-16, the 2nd Infantry Division battered itself against Hill 192. After repeated assaults over a four-day period, the division failed to take Hill 192 and suffered 1,253 casualties. It was eventually taken on July 11, 1944, with significant losses.
On June 23, 1944, Ray O. Coffey was killed by mortar fire, with wounds to his head and chest. He was killed along with Captain Leon Huthnance. Captain Huthnance rests in Arlington National Cemetery. Coffey received a Bronze Star and a Purple Heart. No records have been found to explain the Bronze Star.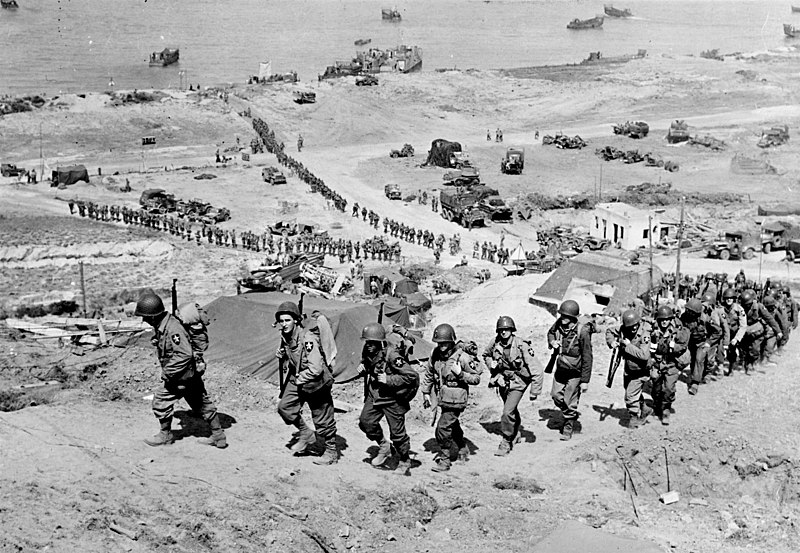 Eulogy
Countless soldiers fought and sacrificed their lives for freedom during World War II. During these battles, the soldiers encountered obstacles that required the right people to help clear the path for these soldiers. Combat Engineers were tasked with removing these obstacles and my silent hero, Ray Oliver Coffey, was one of these engineers.
Ray Coffey must have been a hard worker. As we know from the census reports, he grew up farming, worked in a garage in his 20s, and later became a miner. From The Idaho Statesman, we know that he had a bumper crop of clover seed. Ray Coffey attended Boise High School, and among the pictures in the yearbook, we see a large ROTC group. Perhaps he joined that group, and its influence later affected his decision to enlist.
Either way, we know that the military was significant to him, as his younger brother Ralph enlisted into the Air Force in the 490th Bomb Group as a Ball Turret Gunner, and is believed to have participated in bombing runs over Normandy. We believe that Ray Coffey was interested in science, as he got his ham radio license after high school, and his brother John Earl was a member of the ham radio club at Boise High.
While we have never met Ray Coffey, we can imagine him with a slow, soft smile. In an email interview with Ray Coffey's nephew's widow, we are told that he was a humorous man who enjoyed telling tall-tales about pigs, and wrote letters home that were quite fun to read.
The motto of the 2nd Engineer Battalion was "Essayons," which is French for "Let us try." This motto shows the Combat Engineer's willingness to do hard things. Quite often, Combat Engineers were in front of the front lines. They are arguably the unsung heroes of the military. During the Normandy Invasion, Combat Engineers would help with mine removal, destruction and emplacement, bridge building and road repair, busting holes in the "bocage," as well as guard duty. In Ray Coffey's situation, the Combat Engineers were called upon to act as infantry to replace infantry casualties.
The Coffey family decided to leave Ray Coffey's body in Normandy, with other soldiers who fought and died.
Thousands of brave American men and women have given up their lives for their country. This sacrifice has secured freedom for us today. It is important that these soldiers be remembered, and that is why I am here today, to thank my silent hero for all that he has done. Thank you for clearing the path for success for the Allied troops. Thank you for sacrificing your life. Thank you for fighting for our freedom. Technician Fourth Grade Ray Oliver Coffey, from all of us, thank you.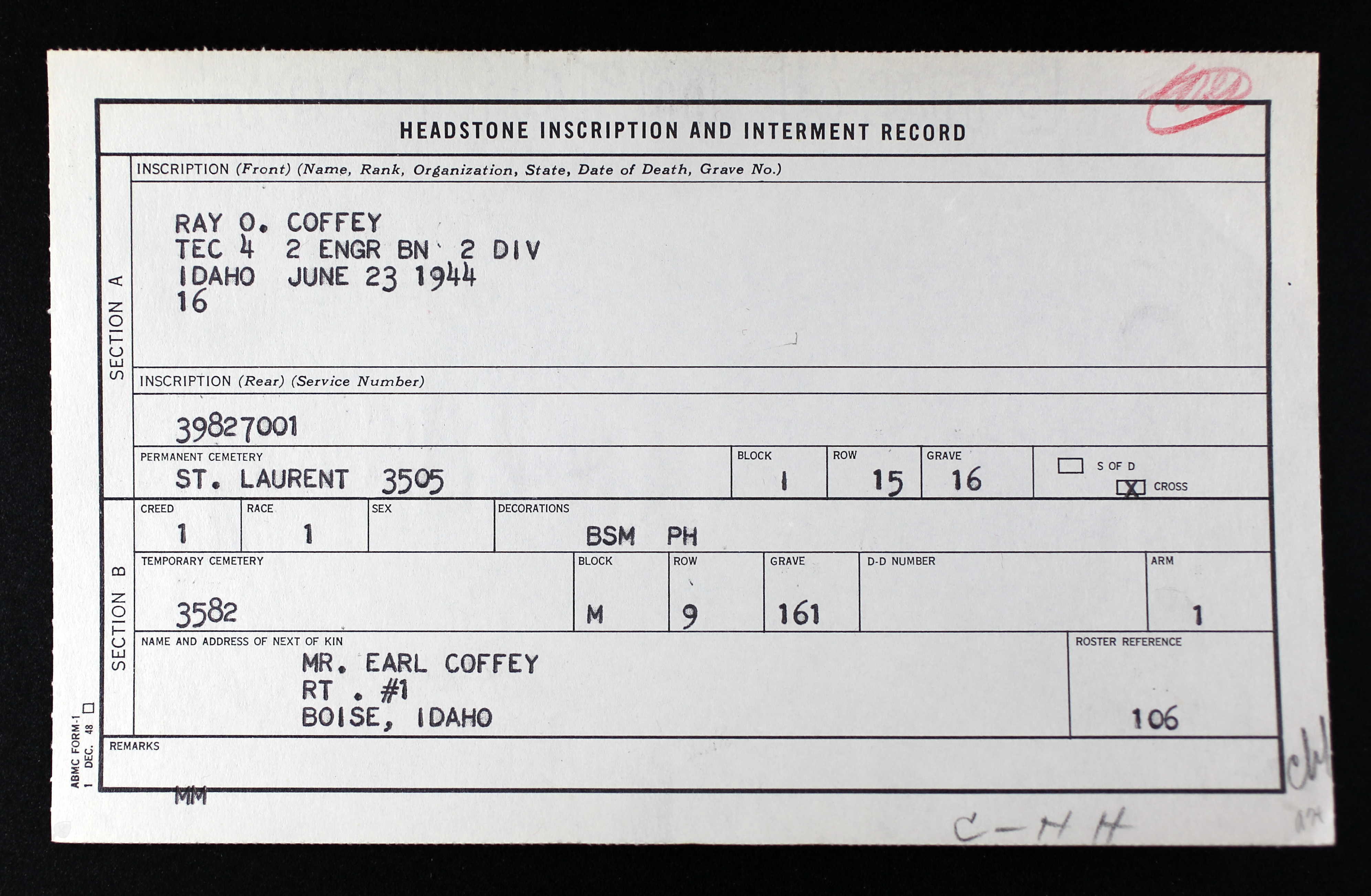 Reflection
I never thought that learning about history could be so life-changing.
This opportunity to be a part of the Normandy: Sacrifice for Freedom Student & Teacher Institute has changed my life, and when I originally applied for it, I had no idea how powerful this experience would be. I have always had an interest in World War II. The Normandy Institute expanded upon numerous perspectives: the preparation that it took for Operation Overlord (D-Day), the struggles of Allied soldiers, the impact the invasion had on French civilians, and even the viewpoint of German soldiers. However, the most important things that I have learned through the entire program were those surrounding Ray O, Coffey, a man who grew up mere miles away from me.
It just astonishes me how one soldier, along with a legion of others, can be forgotten, even though these soldiers paid the ultimate sacrifice for the freedom of others. Ray Coffey has truly been forgotten. As Mrs. Gilson and I were choosing from a list of 30 Idahoan soldiers to eulogize at the Normandy American Cemetery, we felt drawn to Ray Coffey's name. He was just a name in my eyes, but what I realize now is that Ray Coffey is more than just a name. He was a Boise boy who left his home, and is now sleeping eternally in Normandy.
My teacher and I conducted hours and hours of research over the course of six months to learn about who Ray Coffey really was. We were led to several dead ends, and it seemed as if we wouldn't find much information on him. We constructed his family tree on Ancestry.com. Any information we found was primarily through the census reports and occasional mentions in the Idaho Statesman. However, the thing we were searching for the most was a photograph of Ray. We were able to find pictures of every one of his four siblings, and our desire to have a picture of Ray has only intensified. We yearn to put a face to Ray's name, and feel that we know him.
We left for Washington D.C., where we visited war memorials, Arlington National Cemetery, and the World War II Monument. Each day, we had comprehensive lectures given by experts on World War II. We conducted research at the National Archives at College Park, and we were amazed by the sources available. However, we are saddened by not finding any direct information about Ray. Despite our earnest searches, we still know very little personal information about Ray, and yearn to put a face to his name.
We left for Normandy, France, on June 23, 2016, the 72nd anniversary of the day that Ray O. Coffey was killed in action. We went to various locations around northern France where battles and important events took place during the war. Visiting these solemn locations personalized the war. As we listened to stories about the battles, I learned of the sacrifices of so many. It was life-changing, and it actualized the suffering and valor of so many. War isn't just something that you read about in a textbook, it is real people making real sacrifices.
We concluded our sober duty at the Normandy American Cemetery. I delivered my eulogy dedicated to Ray O. Coffey for the sacrifices that he made. As Mrs. Gilson and I knelt down to clean his cross, and to rub sand from Omaha beach into his name's engraving, I felt overwhelmed with emotion. The critical readings, weekly posts, and group discussions had led up to this pivotal moment. I was prepared to deliver my eulogy, and I felt the weight of his sacrifice. I felt such a love and respect for Ray, and I wanted him to know that he has not, and will never be forgotten.
​​Ray O. Coffey is one of many forgotten soldiers. I deeply care about Ray, and all the other soldiers that have sacrificed their lives for freedom. All soldiers, whether in 1944 or today, need to be remembered and thanked for their sacrifices. They are risking their lives to fight for freedom. I hope that every soldier, along with Ray, can one day have the proper thanks that they deserve.
I hope to pass to others the knowledge that I have gained about Ray Oliver Coffey, so that he is not forgotten. He deserves to be in our memory.
Bibliography
Primary Sources
The Courier. Boise: Boise High School, 1922. Idaho Historical Society.
Engineer Field Manual. Washington, D.C.: Government Printing Office, 1943. www.ibiblio.org/hyperwar/USA/ref/FM/PDFs/FM5-5.PDF.
Idaho. Ada County. 1910 United States Federal Census. ancestry.com.
Idaho. Ada County. 1920 United States Federal Census. ancestry.com.
Idaho. Ada County. 1930 United States Federal Census. ancestry.com.
Idaho. Ada County. 1940 United States Federal Census. ancestry.com.
"Ray O. Coffey." Headstone and Interment Records for U.S. Military Cemeteries on Foreign Soil, 1942-1949. ancestry.com.
Ray O. Coffey, Individual Deceased Personnel File, Department of the Army.
"Ray O. Coffey." U.S. Rosters of World War II Dead, 1939-1945. ancestry.com.
"Ray O. Coffey." World War II and Korean Conflict Veterans Interred Overseas. ancestry.com.
"Ray O. Coffey." World War II Army Enlistment Records. ancestry.com.
Troops of the U.S. Army 2nd Infantry Division march up the bluff... Photograph. June 7, 1944. National Archives and Records Administration. commons.wikimedia.org/wiki/File:2nd_Infantry_Division,_E-1_draw,_Easy_Red_sector,_Omaha_Beach,_D%2B1,_June_7,_1944.jpg.
Vehicles of the U.S. 3rd Armored Division cross the Seine River in France. Photograph. August 1942. U.S. Army Center of Military History. commons.wikimedia.org/wiki/File:3rd_Armored_Division_vehicles_cross_the_Seine_River.jpg.
Secondary Sources
"490th Bomb Group." American Air Museum in Britain. Accessed May 8, 2020. www.americanairmuseum.com/unit/474.
Becky, Alfred M., et al. The Corps of Engineers: The War Against Germany. Washington, D.C.: U.S. Army Center of Military History, 1985. history.army.mil/html/books/010/10-22/CMH_Pub_10-22.pdf
"A Brief History of Gowen Field." Gowen Strong. Accessed May 8, 2020. www.gowenstrong.com/history.html.
"Gowen Field Has Served Idaho since WWII." Idaho State Journal, March 29, 2015. www.idahostatejournal.com/members/gowen-field-has-served-idaho-since-wwii/article_5869a34e-d63a-11e4-b402-8f0752f6ec3e.html.
"Gowen Field Memorial Park." Idaho Military Museum. Accessed May 8, 2020. museum.mil.idaho.gov/gowen-field-memorial-park/.
"Idaho Legacy: Farragut, Idaho." Idaho Military Museum. Accessed May 8, 2020. museum.mil.idaho.gov/idaho-military-history/idaho-legacy/.
"Ray O. Coffey." American Battle Monuments Commission. Accessed May 8, 2020. www.abmc.gov/decedent-search/coffey%3Dray.