Private First Class Rose F. Puchalla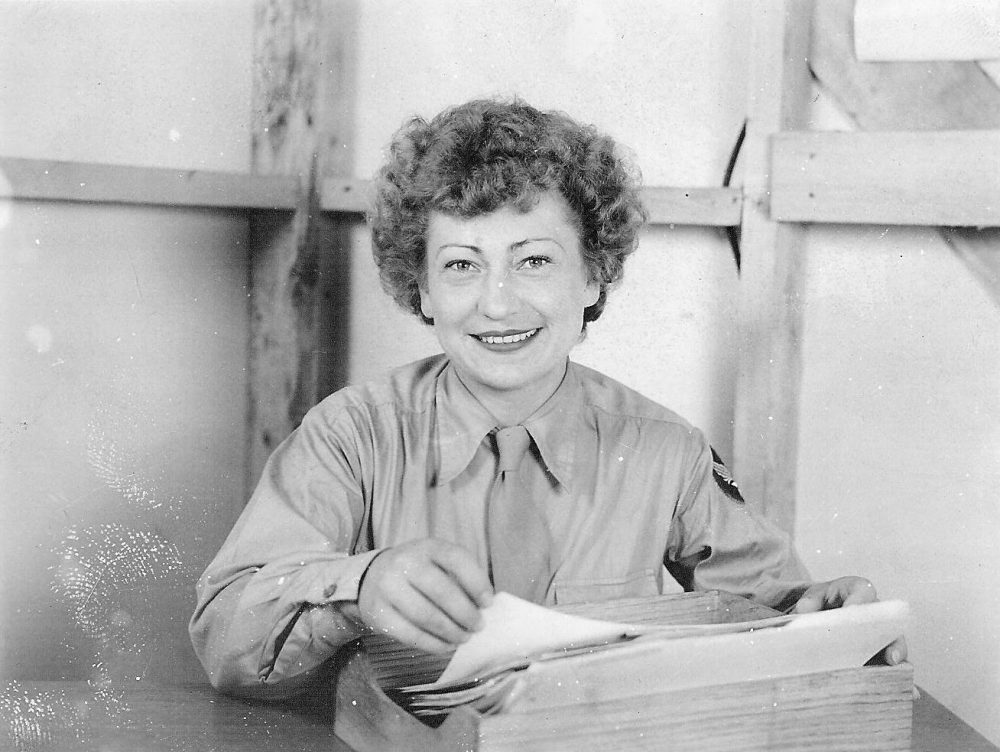 Unit:

Women's Army Corps, 1202nd Army Air Force Base Unit

Service Number:

A-710481

Date of Birth:

November 30, 1917

Entered the Military:

April 13, 1944

Date of Death:

May 30, 1945

Hometown:

Minneapolis, Minnesota

Place of Death:

Atlantic Ocean, off the coast of the Ivory Coast

Cemetery:

Tablets of the Missing.

North Africa American Cemetery, Carthage, Tunisia
Contributed by Christina O'Connor
Hingham High School
2015-2016
Early Life
Remembered fondly as a warm and friendly person, Rose F. Puchalla, the youngest of five children, was born in 1918 and grew up in Minnesota. Her father, Thomas, was the son of Polish-speaking German immigrants, and her mother, Agnes, immigrated to Minnesota from Poland.
Puchalla spent her early years in rural Holding Township, Minnesota, but, by the time of the 1930 census, she and her family were living in Minneapolis. Agnes, now head of the household and raising Mary, Tony, Helen, Cora, and Rose on her own, earned an income as a seamstress and tailor. According to her family, Agnes's sewing machine was always in use crafting custom-made clothing.
In the midst of the Great Depression, Rose completed the eighth grade and worked outside the home in local factories. By the early 1940s, Rose and her sister Cora worked at the Foley Company, a kitchen supply factory best known for its food mill. Foley also produced canteens for the U.S. military during World War II.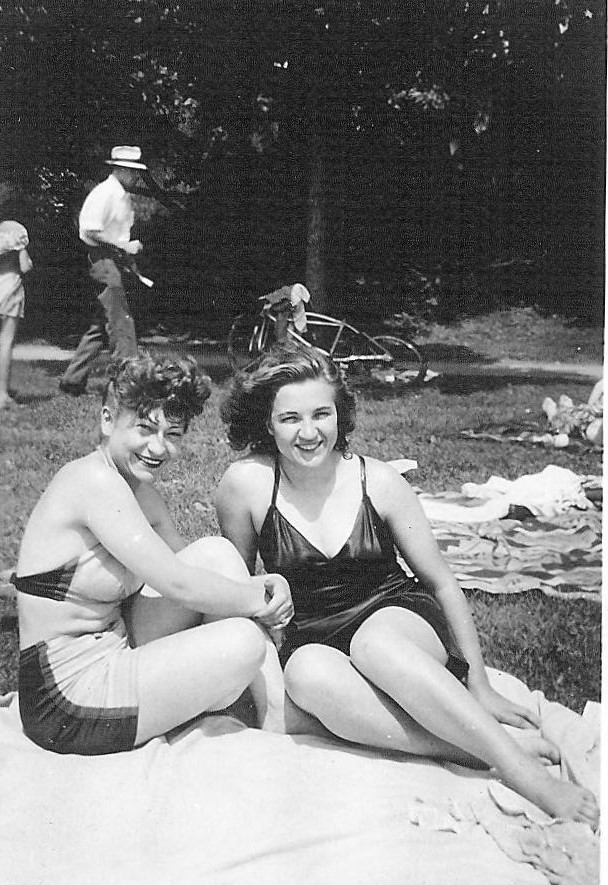 Military Experience
Women's Army Corps and Air Transport Command
The newly-formed Women's Army Corps (WAC) enabled women to serve with the U.S. Army in an official capacity, and early recruiting was brisk. Eventually, over 150,000 women served in the WAC during the war. Puchalla enlisted on April 13, 1944, and, after training, she was assigned to serve overseas in Accra on the African Gold Coast.
The previous summer, General Dwight D. Eisenhower wrote, "The Women's Army Auxiliary Corps in Africa has proved that women can render definite contributions to the winning of the war, and that their capabilities in this regard extend to an actual theater of operations." Perhaps in response to concerns critics expressed about women in the military, Eisenhower further noted that "their general health and well being have certainly been equal to that of our best enlisted units." The WACs who arrived in Accra served in a variety of capacities from administration to transportation.
Puchalla was one of 159 WACs who arrived in Accra in November 1944 to serve with the Air Transport Command. Created to deliver troops and supplies overseas, as well as to transfer aircraft to where the planes were most needed, Air Transport Command spanned the globe.
The WACs who were part of the 1202nd Army Air Force Base Unit were older than most other recruits, as they were "chosen for maturity and work experience." Their average age was 28 and they collectively represented wide and varied life experiences. Puchalla worked alongside clerks, models, riveters, pilots, and even professional dancers. Their commanding officer, First Lieutenant Patrice A. Brooks, had been a protégé of Anna Pavlova, the famous Russian prima ballerina.
As the war in Europe concluded and military demands shifted, staffing at Air Transport Command changed. Private First Class Puchalla and seventeen other WACs prepared for departure. On an early morning flight on May 30, 1945, the eighteen WACs and a crew of three airmen left Accra at 7:08 a.m. for Roberts Field, Liberia. There were scattered showers that morning, but no other weather conditions of note.
They made regular radio contact at 7:55 a.m. over Takoradi Airport in modern-day Ghana. At 9:20 a.m., the U.S. Army Airways Communication System at Roberts Field in Liberia picked up repeated distress signals from the aircraft. A later report detailed, "the distress signal was loud and clear and was heard for approximately five minutes."
Despite immediate and continued searching, the plane and its passengers were never found. The last known location of the plane was one-half mile off the coast of Drewin Point in the French Ivory Coast. This accident is believed to be the largest single loss of life of women serving during World War II.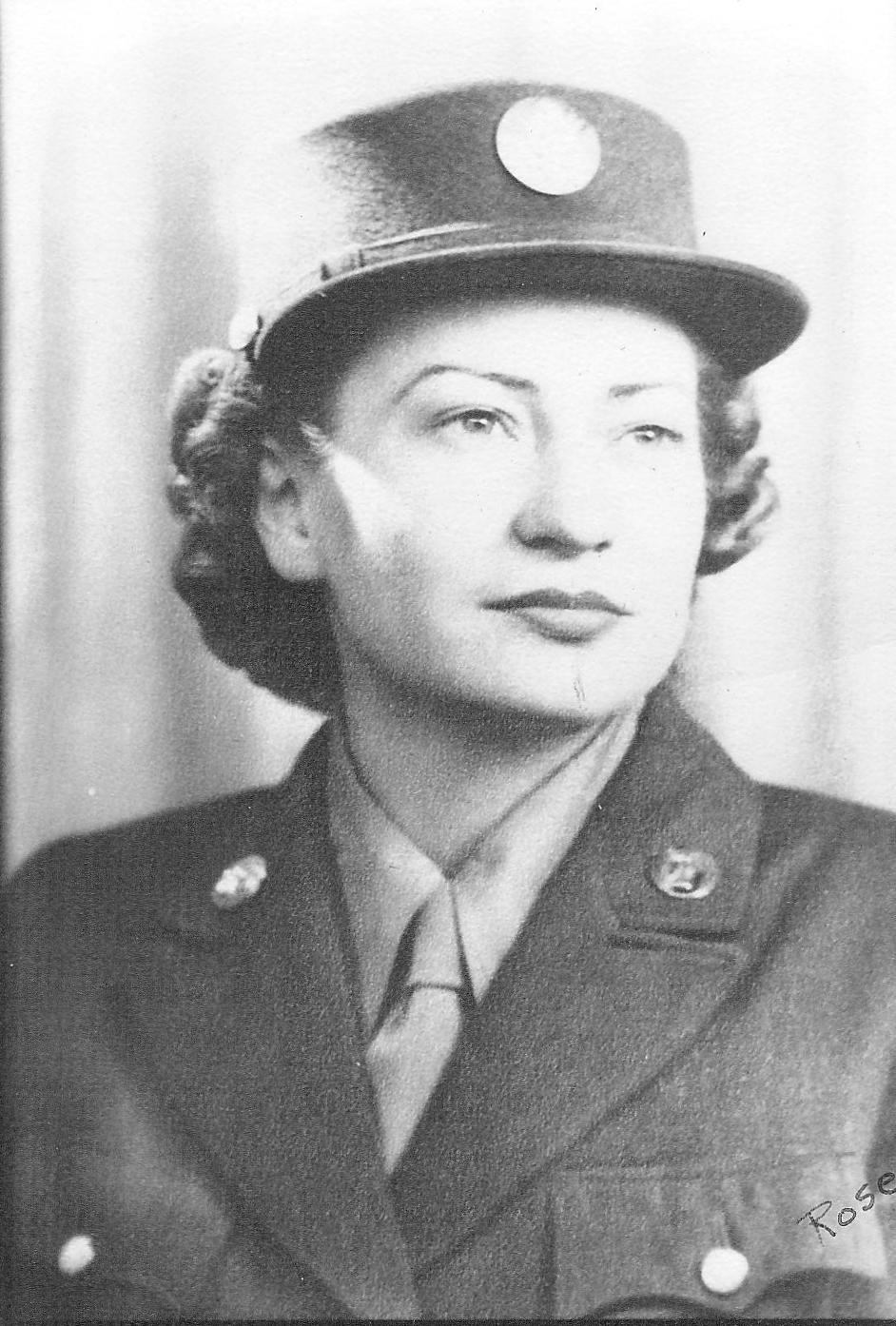 Eulogy
While searches for the missing plane and its passengers continued, on June 21, 1945, the "evidence [was] considered sufficient to establish the fact of death" for all on board. In July 1949, after an investigation, the Memorial Division of the Quartermaster Corps wrote to Puchalla's mother, Agnes, to express their condolences that they considered Puchalla's remains "not recoverable."
Private First Class Rose F. Puchalla's name, along with all those lost on her flight, are commemorated on the Tablets of the Missing at the North Africa American Cemetery in Carthage, Tunisia.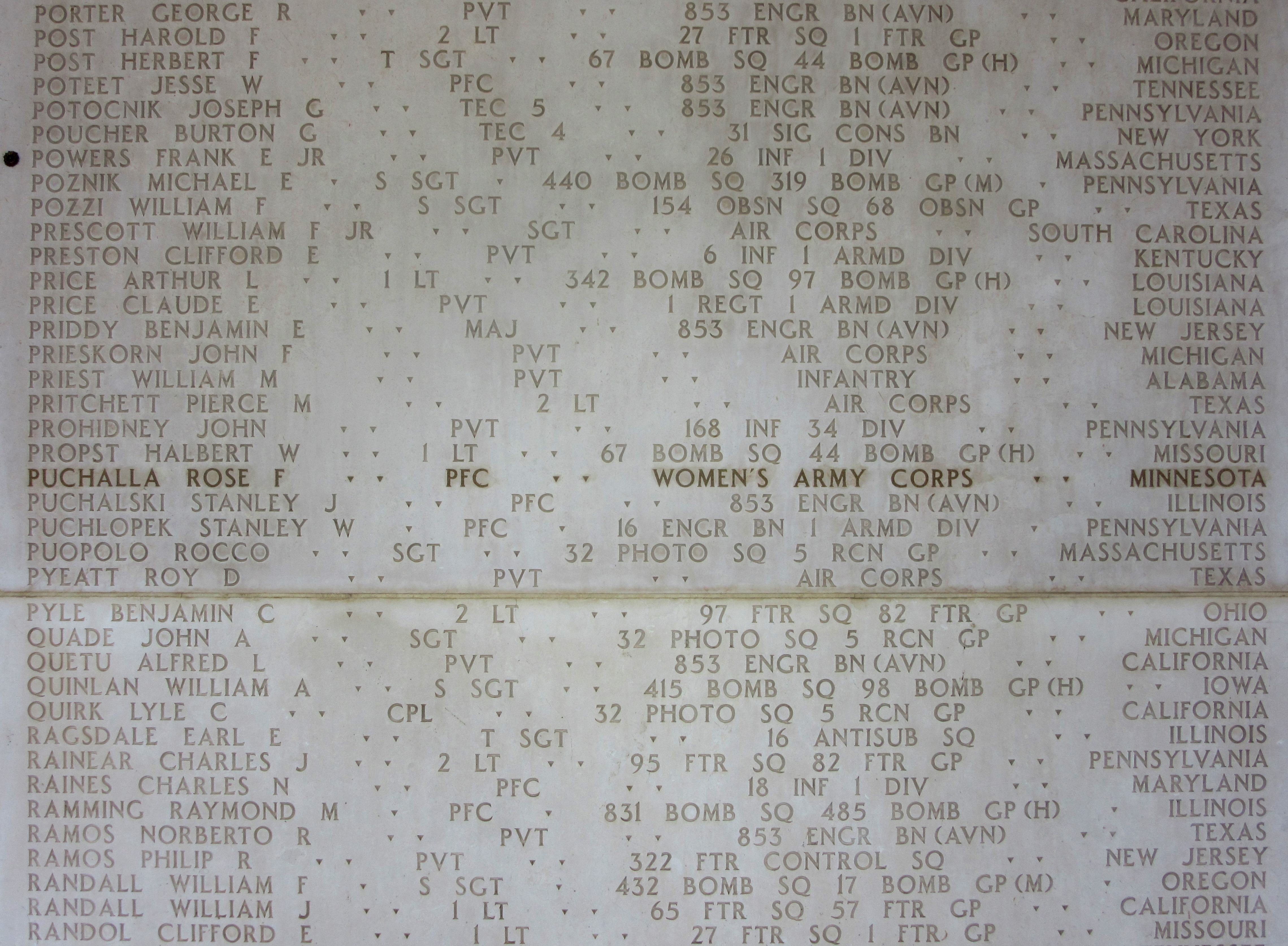 Reflection
Bibliography
Director of the Women's Army Corps, Records of the War Department General and Special Staffs, Record Group 165 (Box 192); National Archives at College Park, College Park, MD.
Director of the Women's Army Corps, Records of the War Department General and Special Staffs, Record Group 165 (Box 204); National Archives at College Park, College Park, MD.
Edith Nourse Rogers Papers. Schlesinger Library, Harvard University, Cambridge, Massachusetts. February 18, 2016.
Leder, Jane Mersky. Thanks for the Memories: Love, Sex, and World War II. Westport: Praeger Publishers, 2006.
Meyer, Leisa D. Creating G.I. Jane: Sexuality and Power in the Women's Army Corps During World War II. New York: Columbia University Press, 1996.
Missing Air Crew Report; Records of the Army Air Forces, World War II (14550); National Archives at College Park, College Park, MD.
Puchalla Family Photographs. 1943-1944. Courtesy of Mary Sather.
Rose Puchalla, Individual Deceased Personnel File, Department of the Army.
"Rose F. Puchalla." American Battle Monuments Commission. Accessed November 2, 2015. abmc.gov/node/392999#.VzHf59UrLnA.
Sather, Mary. E-mail message to author. December 6, 2015.
Sather, Mary. E-mail message to author. December 29, 2015.
Treadwell, Mattie E. The Women's Army Corps. Washington, D.C.: Office of the Chief of Military History, 1954.
War Department, Bureau of Public Relations. "159 WACs Arrive for Duty on African Gold Coast." November 1, 1944. U.S. Army Women's Museum, Fort Lee, VA.
This profile was researched and created with the Understanding Sacrifice program, sponsored by the American Battle Monuments Commission.