Seaman Second Class Joseph J. Hoffer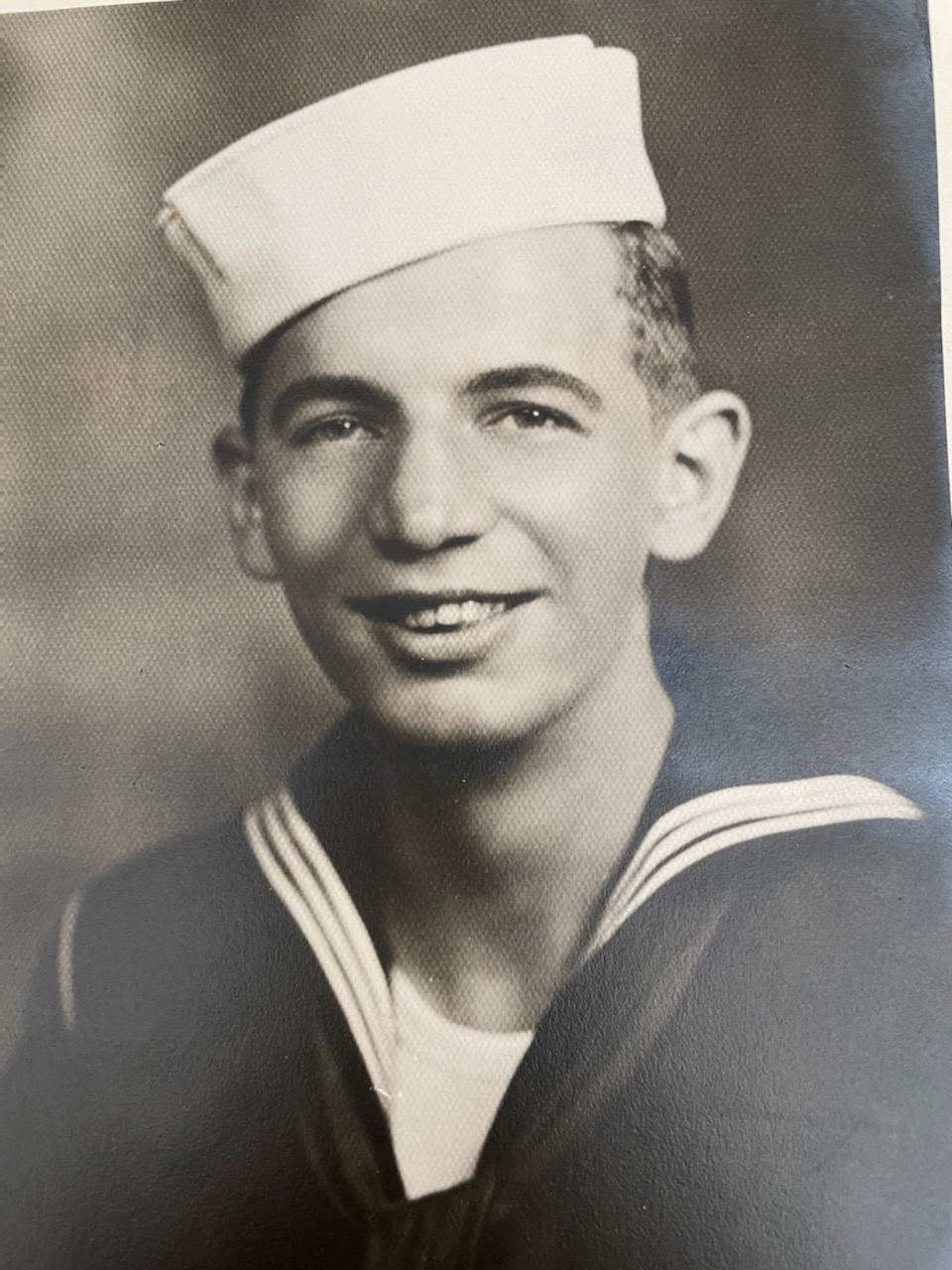 Unit:

USS Pringle

Service Number:

8133589

Date of Birth:

April 16, 1919

Entered the Military:

August 26, 1943

Date of Death:

April 16, 1945

Hometown:

Clifton, New Jersey

Place of Death:

off the coast of Okinawa, Japan

Award(s):

Purple Heart

Cemetery:

Courts of the Missing, National Memorial Cemetery of the Pacific, Honolulu, Hawai'i
Contributed by Yasmin Obeidallah
Mentored by Ms. Victoria Scarpa
Passaic County Technical Institute
2021–2022
Early Life
Joseph John Hoffer was born on April 16, 1919, in Clifton, New Jersey, to Joseph and Marie Hoffer. The Hoffer family arrived in the United States from Hungary in 1906. Hoffer had three older sisters, Margaret, Elsie, and Ottilia. He was the youngest and the only boy. Hoffer attended St. Mary's School and Passaic High School in Passaic, New Jersey.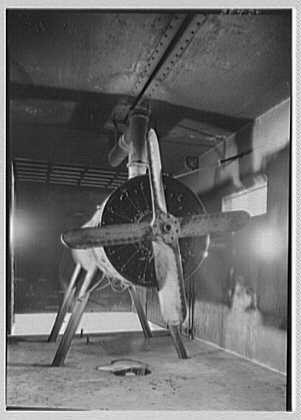 Homefront
Founding
Passaic County, New Jersey shares a border with New York and is named for the Passaic River. In the late eighteenth century, Alexander Hamilton found this location to be ideal for a planned industrial city utilizing power from the Paterson Great Falls and Passaic River. During World War II, the area was mobilized for war defense production.
Industrial Training and Manufacturing
The Woolen Mills of Botany Village employed mostly foriegn-born workers. Both Hoffer's mother, Marie, and father, Joseph, worked at the mills. During World War II, the mills were commissioned to produce fabric for U.S. Navy uniforms.
The Curtis-Wright Aeronautical Corporation in Paterson, New Jersey, scaled up armament production, including engines and propellers, for World War II aircrafts. Hoffer worked for the Curtis-Wright Company before enlisting in the U.S. Navy.
Wright engines powered all of the B-17 Flying Fortresses used during the war, along with the B-25 bombers that participated in the Doolittle raid on Tokyo in 1942 and the Enola Gay, the B-29 Superfortress that dropped the atomic bomb on Hiroshima.
Paterson Vocational School trained young men to prepare for work in defense manufacturing. After the war, the school continued to advance its technical and vocational programs under the new name Passaic County Vocational Schools and moved a few miles from Paterson to Wayne, New Jersey.
Military Experience
Hoffer enlisted into the U.S. Navy on August 26, 1943, in Newark, New Jersey. In January 1944, he joined the crew on the USS Vincennes in Boston. The USS Vincennes departed Boston on Hoffer's birthday, April 16, 1944, heading to Pearl Harbor, Hawaiʻi.
Seaman Second Class Hoffer was transferred to the USS Pringle when he arrived in Pearl Harbor on May 17. The USS Pringle had recently returned from operations in the Solomon Islands and was now prepared for upcoming operations in Saipan in the Mariana Islands. The Pringle supported the difficult landing at Saipan in June 1944 through various operations that included protecting a large cruiser from air attacks, bombardments of the enemy installations on land, and a burial at sea of a crewmember.
The ship was in Saipan, Tinian, and Guam for most of July into August 1944. These battles allowed American forces to gain control of small islands in the Pacific while slowly breaking down Japan's defenses to invade the home islands.
By late November, the USS Pringle and Seaman Second Class Hoffer arrived in Leyte Gulf, in the Philippines. At this time, the kamikaze attacks began to increase, and the Pringle was often called to general quarters. In December 1944, the USS Pringle was assisted by the "Combat Air Patrol" (CAP), or aircraft patrol over a combat zone, to relieve some of the aerial harassment.
By March 1945, the stage was being set for the Okinawa operation with the USS Pringle and crew providing screening operations for the amphibious landings on Okinawa. On April 14, 1945, the Pringle was assigned to Picket Station No. 14, providing continuous radar and visual air and surface searches. As patrols continued on April 16, the radar picked up numerous planes coming from all directions. The CAPs were sent to intercept but found themselves low on fuel and returned to base. At 8:51 a.m., a single kamikaze approached the Pringle but was shot down, and then again at 9:05 a.m. another kamikaze approached and was turned away. The destroyer now opened fire as three more enemy planes approached at 9:10 a.m.
Ten minutes later, the final blow came as an enemy plane made its aggressive dive into the destroyer. Less than six minutes after that attack, the Pringle submerged into the Pacific. An hour passed as the survivors waited for rescue in the waters of the Pacific, continually bombarded by aerial attacks. Sixty-two Pringle servicemen lost their lives in the sinking, and several sailors lost their lives while on the rescue ships. It was Seaman Second Class Hoffer's twenty-fifth birthday. Almost two months after his death, American forces overwhelmed the Japanese in the Battle of Okinawa, and the U.S. obtained its final stepping stone to invade mainland Japan. The sacrifice of Seaman Second Class Hoffer and the thousands of armed forces who gave their lives for their nation allowed the United States, the Allied powers, and democracy to triumph over fascism and dictatorship.
The USS Pringle was awarded ten Battle Stars for World War II service.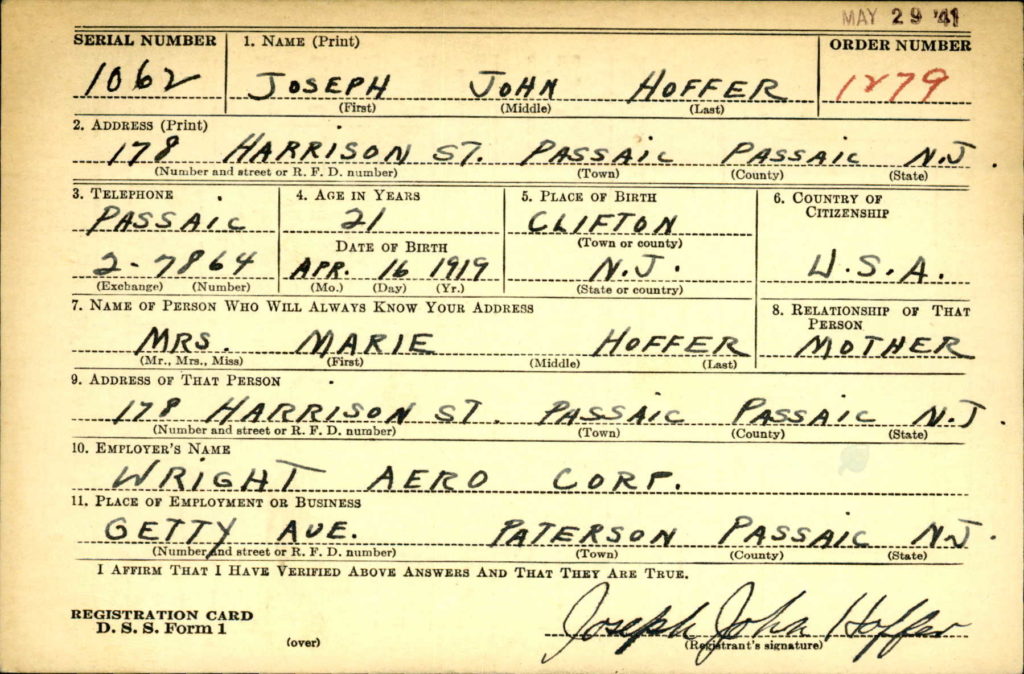 Eulogy
On April 16, 1919, Seaman Second Class Joseph J. Hoffer was born. On April 16, 1944, he sailed out to the Pacific, and on April 16, 1945, he was reported as missing in action off the island of Okinawa. April 16th may be insignificant to some, but to Seaman Second Class Joseph J. Hoffer, it was the day he was born and the day he made the ultimate sacrifice for his country 25 years later.
Born in Clifton, New Jersey, to immigrants who arrived from Hungary, Joseph Hoffer was the youngest of four children and the only boy. His enlistment in World War II was delayed. Still, he aided the war effort by working at Curtiss-Wright Aeronautical Company, building the plane engines and propellers.
Seaman Second Class Hoffer enlisted in the U.S. Navy on August 26, 1943, and was later assigned to the USS Pringle and played an instrumental role in the US Navy's "island-hopping" and Mariana Islands campaign. On April 14, 1945, the USS Pringle was assigned to one of the 15 radar picket stations off the coast of Okinawa. As a part of radar picket station 14, Seaman Second Class Hoffer was aboard a target for enemy planes because the destroyers were isolated from the fleet to warn of incoming air attacks. On April 16, 1945, three Japanese kamikaze pilots attacked the USS Pringle. Seaman Second Class Hoffer was one of 62 men reported missing in action.
A poem titled "A Place Unknown," written by the son of one of the survivors of the sinking of the USS Pringle, captures the sacrifice made by Seaman Second Class Hoffer and his fellow men in uniform. It reads "The awful toll paid/At the altar of sacrifice/Known only as pickett station 14 . . . No statue yet stands/Or words etched into gray stone/No tribute likely to be seen/But t'was duty not glory/And I know and remember/An heir, to picket station 14." May he rest in peace.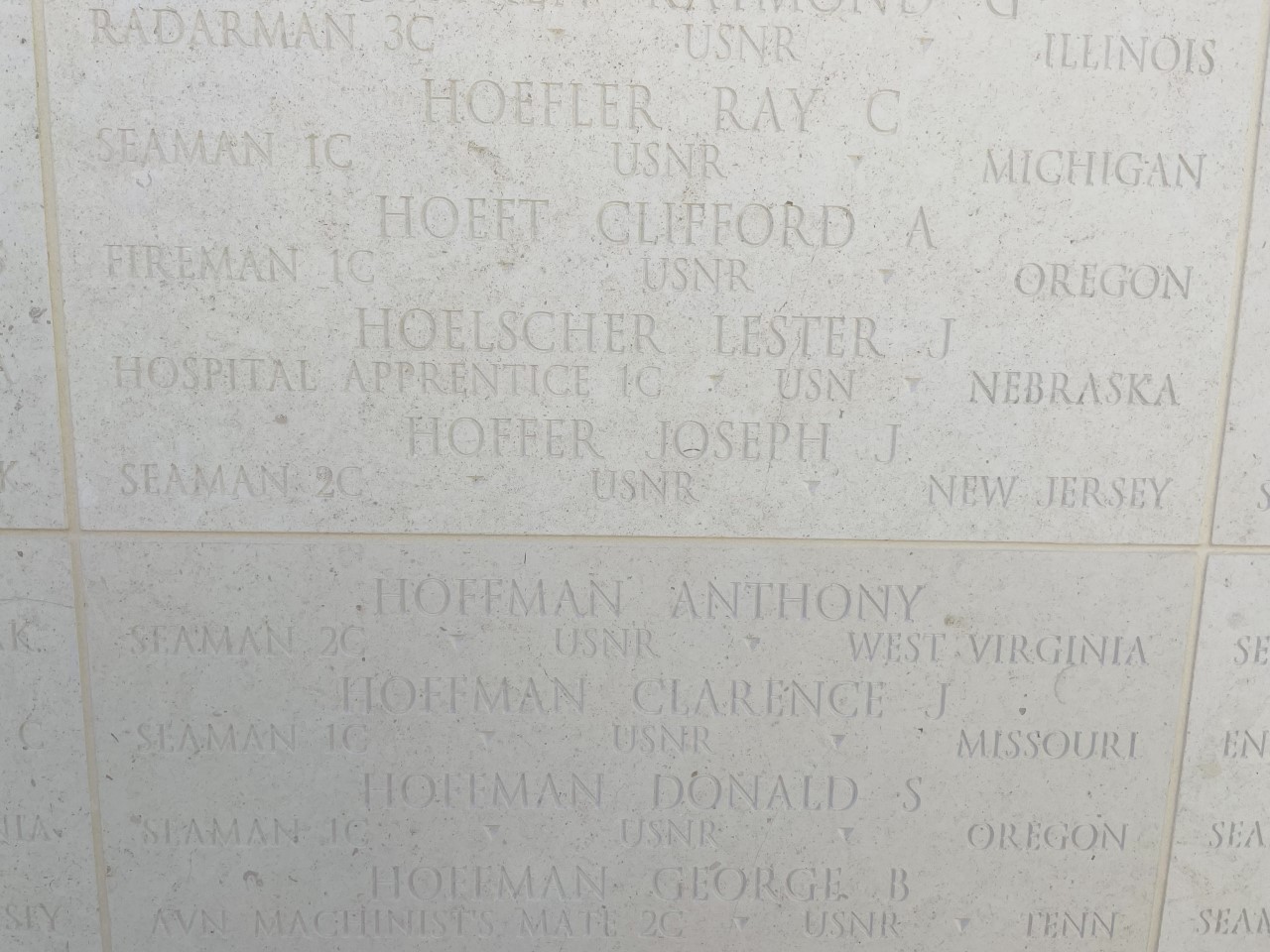 Reflection
Over the past eight months with the Sacrifice for Freedom®: World War II in the Pacific program, I have grown to know Seaman Second Class Joseph Hoffer, and I have learned to love him for his sacrifice. The eulogy process channeled emotions that I did not even know existed, for someone I never even met. Throughout our research and contact with his family, I realized how important it was to honor Seaman Second Class Hoffer in the best way possible. The more I learned about his personality, his duties, and the end of his life, the more I needed people to hear the story of his sacrifice.
As I sat in the National Memorial Cemetery of the Pacific and listened to fifteen phenomenal students recite eulogies for fifteen phenomenal Silent Heroes, I was one of the first to listen to unheard stories that were now known and never to be forgotten. After I read my own eulogy and the work of the last several months had come to an end, I found myself with several things: closure for myself, closure for Seaman Second Class Hoffer's family, and a desire to share the stories of other heroes. We owe it to those who fought for our freedom to tell their stories and let their sacrifice be known.
Bibliography
Primary Sources
"Engine Plants Salvage Metal: Vital Materials Reclaimed for Later use by Wright Aeronautical Company." New York Times [New York, New York], April 26, 1942. Proquest (10623582). https://www.proquest.com/.
"Defense Factories Fear Draft of Men: Industries in Paterson Area, Especially Wright Plants, Face Losing Skilled Labor." New York Times [New York, New York], February 23, 1941. Proquest (106021090). https://www.proquest.com/.
Gottscho-Schleisner, Inc. Wright Aeronautical Corp., Paterson, New Jersey. Test room. Photograph, October 21, 1940. Library of Congress (2018738242). www.loc.gov/item/2018738242/.
Hoffer Family Photographs, 1920-1945. Courtesy of Marianne Prestifilippo.
Joseph Hoffer. World War II Draft Cards Young Men, 1940-1947. Digital Images. https://ancestry.com.
Joseph Hoffer. U.S. Navy Muster Rolls, 1938-1949. Digital Images. https://ancestry.com.
New Jersey. Passaic County. 1920 U.S. Census. Digital Images. http://ancestry.com.
New Jersey. Passaic County. 1930 U.S. Census. Digital Images. http://ancestry.com.
New Jersey. Passaic County. 1940 U.S. Census. Digital Images. http://ancestry.com.
Parsons, Charles. Email communication with the grandson of Thomas McDermott, USS Pringle survivor. January 20, 2022.
Prestifilippo, Marianne. E-mail messages to authors. January to June, 2022.
Secondary Sources
Axelrod, Alan. "Lend-Lease Agreement." Encyclopedia of World War II, 2013. Modern World History. https://infobase.com/.
Berkenbush, Helen. "Botany Mills, Passaic New Jersey." The Historic County 4, vol. 18 (Fall 2018): 1.
Daniels, Tom. "A Place Unknown." Poem. USS Pringle. www.usspringle.org/poem.html. 
"District History." Passaic County Technical and Vocational Schools. Accessed November 1, 2022. pctvs.org/inside-pctvs/district-history. 
"Joseph J. Hoffer." American Battle Monuments Commission. Accessed May 5, 2022. www.abmc.gov/decedent-search/hoffer%3Djoseph. 
Kennedy, David M., Lizabeth Cohen, and Thomas Bailey. The American Pageant: A History of the American People. Boston: Wadsworth, 2010.
"Pringle DD-477 1942-1945" Naval History and Heritage Command. www.history.navy.mil/research/histories/ship-histories/danfs/p/pringle.html