Technician Fifth Grade Terrence David Cosgriff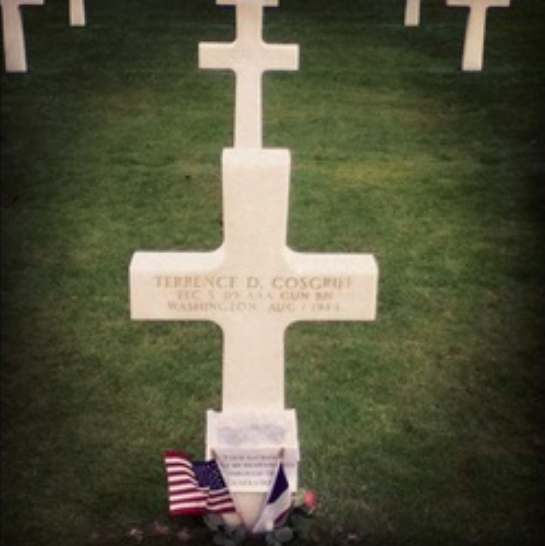 Unit:

119th Anti-Aircraft Artillery Gun Battalion

Service Number:

39464280

Date of Birth:

June 3, 1924

Entered the Military:

April 12, 1943

Date of Death:

August 1, 1944

Hometown:

Spokane, Washington

Place of Death:

near Avranches, France

Award(s):

Purple Heart, French Croix de Guerre

Cemetery:

Plot C, Row 15, Grave 8.

Normandy American Cemetery, Colleville-sur-Mer, France
Contributed by Joseph Landoni
Mentored by Ms. Tricia Billes
Sequim High School
2011-2012
Early Life
Terrence David Cosgriff was born July 3, 1924 in Coleman, Alberta, Canada, to Jessie and Frank Cosgriff. The Cosgriff family had deep Irish roots.
Terrence's father, Frank, worked various jobs within the mining industry, instilling a belief in the American dream in his children and taking them to Catholic mass every Sunday. Terrence spent most of his childhood in Kellogg, Idaho.
His 1942 draft card lists his residence as Gonzaga University in Spokane, Washington, but when he was drafted on April 12, 1943, he was living in Plumas, California.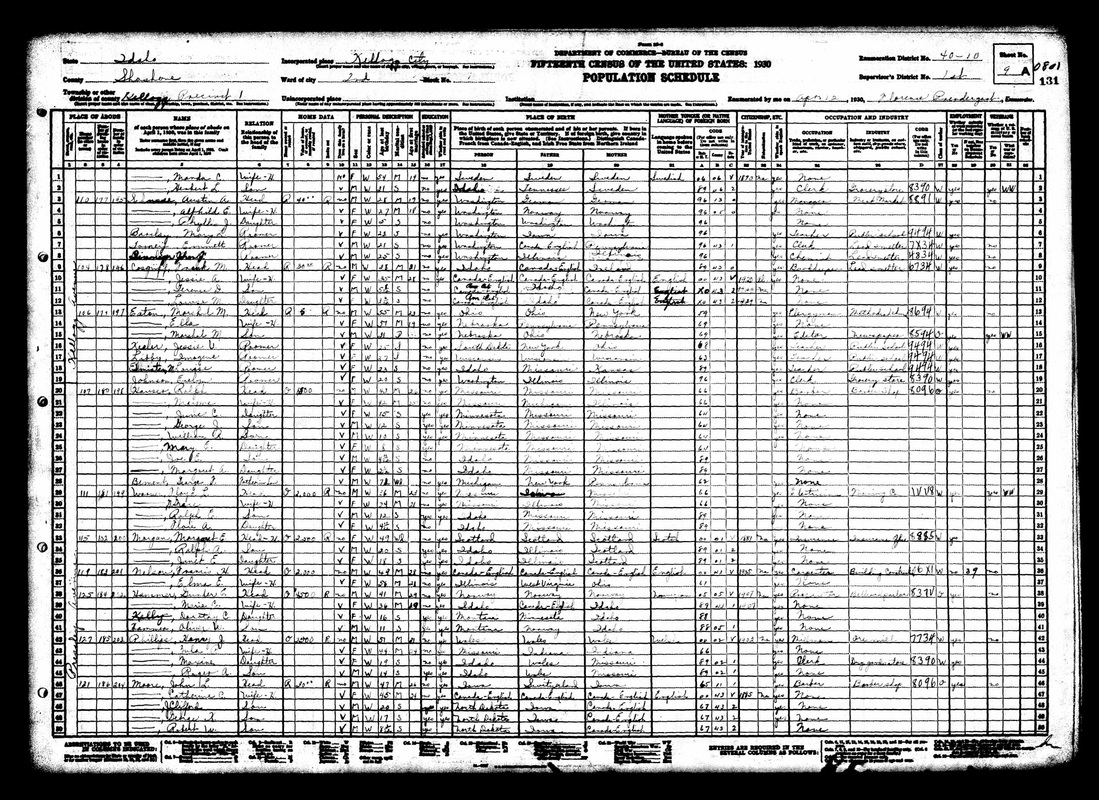 Homefront
The Pacific Northwest
The Pacific Northwest became an industrial hub during World War II. As men came to train in cities like Seattle, Portland, Boise, and Spokane, the area saw infrastructure improvements as well as a wave of new housing projects. Warships, bombers, tanks, transport, plutonium for the atomic bomb, wood products, and minerals were produced in Seattle's air fields, shipyards, and laboratories, and from new mills in Spokane, Vancouver, and Tacoma.
Geographically strategic to the Pacific Theatre of Operations (PTO), Seattle was transformed by the war effort. In addition to industry, the University of Washington hosted military personnel and, along with Gonzaga University in Spokane, transformed educational departments into military machines.
Spokane County
Nearly 15,000 locals enlisted in World War II. Young men from all over the country came to train at Fort Wright, Felts Field, and the Geiger Army Air Corps Base. Farragut Naval Training Station was the biggest operation in the area. In fact, some 300,000 sailors took basic training at Farragut Station, just south of Sandpoint, Idaho, turning Spokane into its major hub for supplies. Farragut Naval Training Station was the second-largest training station in the world. Recruits learned skills like knot tying, first aid, and semaphore (using flags to give codes). This huge facility brought many economic opportunities to the Spokane area, including jobs and financial stability.
The Army Air Depot began operations at Geiger Field. This was perhaps the largest single industry in Spokane's history; it employed 10,500 civilians and 7,000 military personnel during World War II. The chamber of commerce had been angling since 1937 for a military depot to boost Spokane's economy. One repair hangar covered 12 acres. Fort George Wright became the Army Base Headquarters for the entire northwest, and Fairchild Airforce Base was developed. After the war the U.S. Army maintained an Air National Guard unit at Geiger Field and phased out its other operations.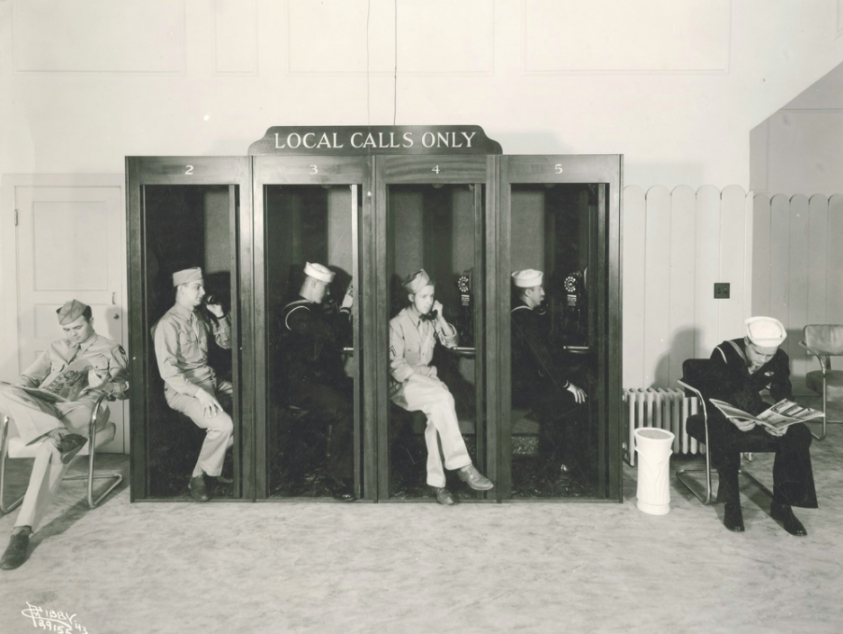 Military Experience
Cosgriff had a passion in the medical field and graduated high school. After a stint at Gonzaga University, he was drafted into the 119th Anti-Aircraft Artillery Gun Battalion on April 12, 1943. He was small in stature, weighing only 108 pounds and standing at 5'4".
Cosgriff was assigned to the 119th Anti-Aircraft Artillery Gun Battalion. This unit trained at Camp Cooke, California and transferred to Camp Shanks, New York before sailing to England aboard the RMS Mauretania on March 31, 1944. The unit trained in Pontypridd and Camp Tonfanau, Wales.
In early June, they transferred to Dunham New Park, near Manchester, England and landed in France on June 8, 1944. The unit was assigned to General George Patton's Third Army. On July 30 they began to push towards Avranches, France. A battle over a bombed-out bridge caused a backup of vehicles. A group of German FW 190s fired on the convoy. Three of the planes were shot down, but Terrence Cosgriff was killed in the attack while attending to another soldier.

Eulogy
For his actions on August 1, 1944, Terrence Cosgriff was awarded a Purple Heart Medal and a French Croix de Guerre.
He is buried in Normandy American Cemetery in France.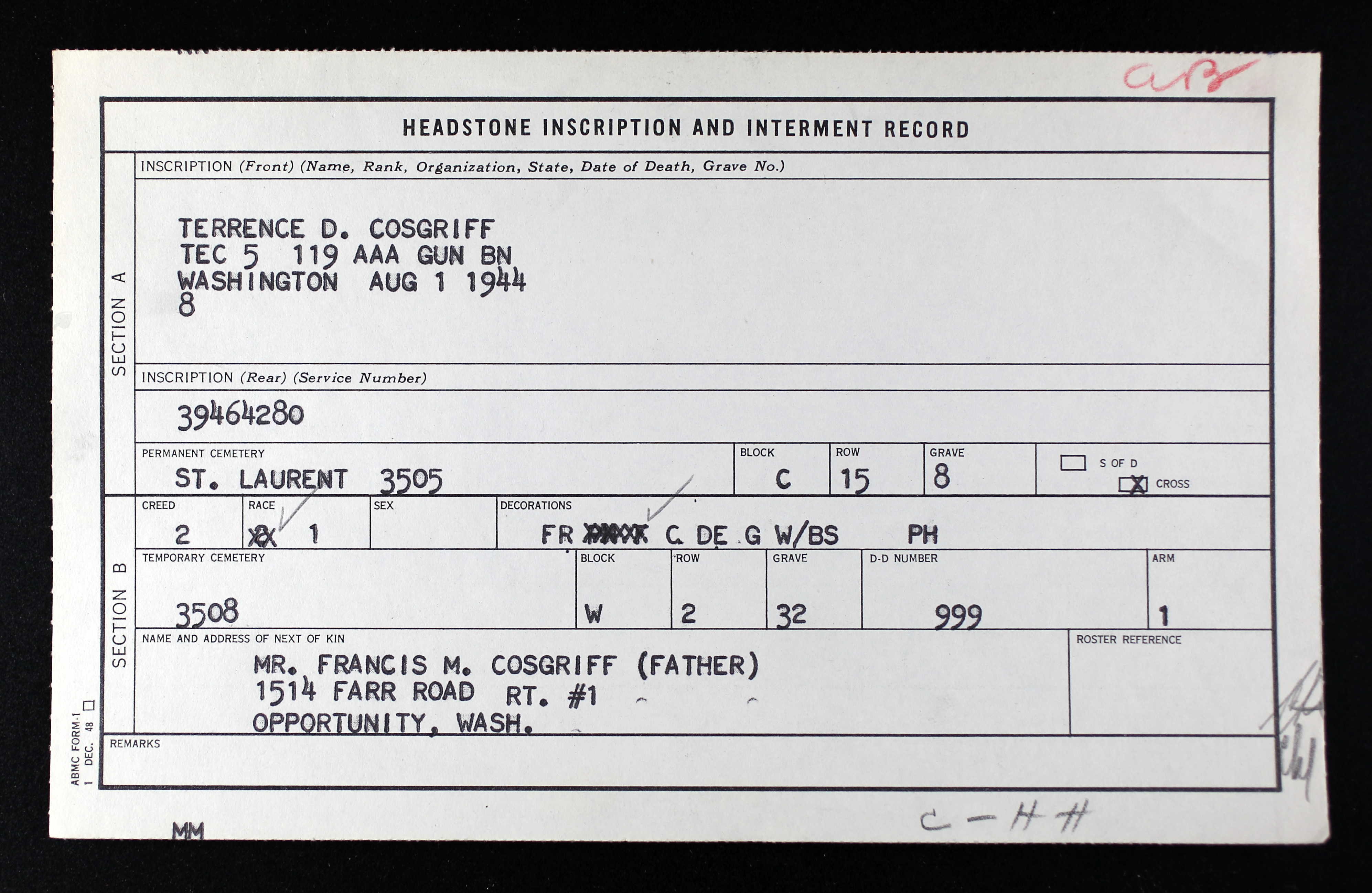 Bibliography
Primary Sources
119th AAA War Journal. National Archives at College Park, College Park, MD.
Boeing Plant 2. Photograph. Seattle Times Archive. www.seattletimes.com/business/boeing-aerospace/from-the-archives-how-boeing-hid-its-bomber-factory/.
Idaho. Shoshone County. 1930 U.S. Federal Census. ancestry.com.
Idaho. Shoshone County. v1940U.S. Federal Census. ancestry.com.
"Idaho Casualties." Spokane Chronicle, September 25, 1944. Newspapers.com (563654447).
Local Calls Only. Photograph. 1944. Eastern Washington State Historical Society, Spokane, WA.
"North Idaho Soldier Casualties Are Told." The Spokesman-Review [Spokane, Washington], September 26, 1944. Newspapers.com (569382074).
Simon, Howard. 119th AAA Group Photo. Photograph. 1944. Friends of the 119th AAA, California. www.facebook.com/groups/213123909153/.
Sprague Street, Spokane. Photograph. 1930. Washington State Historical Society, Spokane.
Stevens, Raymond L, et al. Overseas with the Headquarters Battery, 119th AntiAircraft Artillery Gun Battalion (Mobile). Unpublished manuscript. Accessed May 17, 2020. www.lloydphillips.net/army/119th/history/.
Terrence D. Cosgriff. WWII Army Enlistment Records, 1938-1946. ancestry.com.
Terrence D. Cosgriff. WWII Draft Cards, Young Men, 1940-1947. ancestry.com.
Terrence D. Cosgriff. WWII Hospital Admission Card Files, 1942-1954. ancestry.com.
Secondary Sources
Ambrose, Stephen E. Band of Brothers. New York: Simon & Schuster, 2001.
Beevor, Anthony. D-day: The Battle for Normandy. Camberwell: Viking/Penguin, 2010.
Eisenhower, Dwight D. Crusade in Europe. Garden City: Doubleday, 1948.
Kershaw, Alex. The Bedford Boys: One American Town's Ultimate D-Day Sacrifice. Cambridge: Da Capo, 2003.
Stokesbury, James L. A Short History of World War II. New York: William Morrow, 1980.
Terkel, Studs. "The Good War": An Oral History of World War Two. New York: Pantheon, 1984.
"Terrence D. Cosgriff." American Battle Monuments Commission. Accessed May 17, 2020. www.abmc.gov/decedent-search/cosgriff%3Dterrence.