Corporal Thomas Reed Smith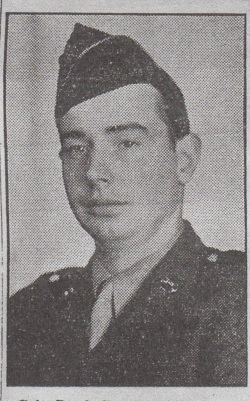 Unit:

30th Infantry Division, 120th Infantry Regiment

Service Number:

1708535

Date of Birth:

March 6, 1922

Entered the Military:

November 30, 1942

Date of Death:

June 29, 1944

Hometown:

Madison, South Dakota

Place of Death:

near Saint-Lô, France

Award(s):

Purple Heart

Cemetery:

Plot H, Row 3, Grave 29.

Normandy American Cemetery, Colleville-sur-Mer, France
Contributed by Karee Wicks
Mentored by Ms. Lauren Olson
Rutland High School
2012-2013
Early Life
Thomas Reed Smith, Jr. was born on March 6, 1922, to Thomas and Mabelle Smith in Minneapolis, Minnesota. Thomas, Sr. served overseas in World War I as a sergeant in the 23rd Engineers. His younger sister, Rachel, was born five years later. He preferred to be called by his middle name, Reed, instead of by his first name.
The family moved to Madison, South Dakota and Thomas, Sr. became president of Madison Motor Supply, while Mabelle became Vice President. They also had a farm in the Lakeview area.
Reed attended Eastern High School, a high school connected to Dakota State University. He was very active in high school and was an outstanding student. He participated in Future Farmers of America (FFA) all four years of high school. As an FFA member, he helped serve the girls' Pep Club Mother-Daughter Banquets and participated in many trips. His FFA chapter traveled to the Black Hills his freshman year and Chicago the following summer. His sophomore year, he attended the National FFA Convention in Kansas City.
Reed decided to play football and basketball his sophomore year, and he continued to play through the rest of high school. In his junior year, he was the class president and also participated in the Junior Play. His senior year, he was part of the staff for The Blue Jay, Eastern's yearbook. Even today, people mention that they recognize his name from playing sports.
Reed graduated in the spring of 1940 and attended South Dakota State University (SDSU) in Brookings that fall. He studied agriculture. He joined the Reserve Officer Training Corps (ROTC) unit at SDSU and enlisted on June 9, 1942.
On November 25, 1942, Reed married Erma Ethel Kirstein, Herman and Martha's daughter (Zulke) Kirstein of Madison. Erma graduated from Orland High School, also in Madison, and attended SDSU two years behind Reed.
Reed was only married a short time, but his son, Thomas Reed Smith III, was born on August 16, 1944, in Washington state, 18 days after his father died overseas in France.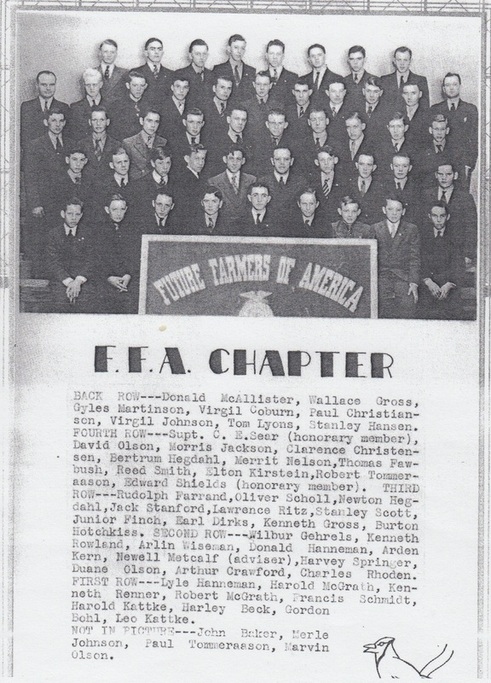 Homefront
Farming in World War II
Agriculture is a primary source of revenue for South Dakota, so the demand for food products significantly impacted the state. At first, some farmers feared an agricultural collapse at the end of the war. After the attack on Pearl Harbor, farmers began producing as many resources as they could. The U.S. Army became a significant buyer of flour from the wheat and beef produced in the United States, and about 75% of the state's farm income came from Allied sales overseas. Farm prices rose 42%, and farm costs only increased 16% from the previous year, reflecting the massive demand for agriculture the war generated.
Although the war generated significant income, it also required a lot of work. Farms require laborers. Amos Wicks had three older brothers in the war, but he still wanted to join the Army. He ran away from home and hopped on a train headed to Minneapolis. His father, Mike Wicks, figured out where he was going and called the recruiting office because he needed help on the farm. He was named a Hardship Case, being the fourth boy from the family who would be overseas, and his father needed help at home on the farm. He was not allowed to enlist.
Because of the lack of men farming, non-farm men, women, and children did more agricultural work. The government suggested businesses close down during big farming seasons, such as planting and harvest. Even students were let out to help during those seasons. Due to the low wages, few businessmen wanted to help out on farms. Farm wages were between $5-$10 a day when most earned way more than that where they worked. To solve this problem, the Bracero Program was created. Beginning in 1942, Mexico and the U.S. agreed that sure Mexicans could come to the U.S. to work on farms. Braceros were particularly welcomed in South Dakota during the war years because they learned quickly and worked hard, although segregation became a significant issue.
The Women's Land Army (WLA) was another solution. Women joined the WLA to help out on farms for the harvest. Many farmers were not as apt to hire non-farm women for seasonal work. They welcomed their wives and daughters in the fields, but they rarely hired other women. Many non-farm women even desired to join the WLA because defense factory jobs paid better.
Women played an essential role in the wartime farming efforts. Women and girls who were a part of the family were seen in the fields during harvest. In South Dakota, many women detasseled corn and pitched hay. In other states, women shocked wheat, harvested potatoes, harvested grain, and picked corn. Women drove tractors to cultivate corn and hauled grain.
Help on the farms was not just limited to men and women. In Rutland, South Dakota, the children were let out of school to pick cattails and milkweed, which had many uses for the war effort. They were made into the wadding for ammunition, and the milkweed floss was also used to make lifejackets. The white, sticky resin inside of milkweed pods was also used to make much-needed rubber.
Another issue for farmers during the war was a lack of equipment. The need to build tanks, airplanes, trucks meant that farmers did not have enough equipment to harvest their fields. The machines broke down or just wore out. Repair shops struggled to find iron to make repairs. As a result, during harvest, all the farmers would share equipment and help each other out.
World War II veteran Don Seedorf, who knew Smith and his in-laws, said that there was food rationing and not enough farm labor, so women helped out, "It was different then than it is now though. Now it's everyone for themselves; back then everyone helped each other out."
My dad and my uncle told me another story about my Grandpa Amos and his father, Mike. According to my dad and uncle, my grandfather told them that each farmer in the county had to throw their name in a hat. If their name was chosen, they could buy a piece of farm equipment with the stipulation that they would help out neighboring farmers with the new machine. The neighbors were supposed to pay a little bit for the help, but nobody had any money. Your great-grandpa Mike's name was drawn, so he bought a single-row, International corn picker. Grandpa Amos spent all winter picking their corn and the neighbors. He was still picking corn in January.
Women's silk stockings were used to make ammunition bags. I talked to Glenda Blom, a Madison resident, and she remembers her mother talking about how the ladies always painted their legs like their stockings since they did not have any. They would take great care in painting the back of their legs.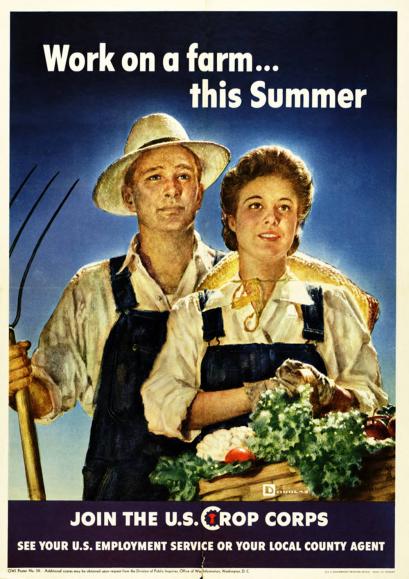 Military Experience
Smith entered military training at the end of his junior year of college in spring 1943 and trained at Camp Wolters, Texas, and Fort Benning, Georgia. He was assigned to the 30th Infantry Division.
30th Infantry Division
The 30th Infantry Division was nicknamed "Old Hickory" in honor of Andrew Jackson. Its emblem is an oval monogram OH for Old Hickory. Inside the OH are the Roman numerals XXX in Royal Blue that stand for 30. Originally the patch was worn horizontally, but it was fixed in the mid-1920s. The Division was first formed from National Guard units from North Carolina, South Carolina, Georgia, and Tennessee in October 1917.
World War II
The 30th Infantry Division was reactivated on September 16, 1940, in Fort Jackson, South Carolina. They arrived in England on February 22, 1944, and trained until June. They arrived in France on June 14. The first elements entered combat on June 15, and the entire Division arrived by mid-July. The commanding general for the 30th Infantry Division was Major General Leland S. Hobbs.
The Division's first mission was to secure the Vire-et-Taute Canal, which they did. The north bank was clear by June 17. They crossed the Vire River on July 7 and continued as far as Saint-Jean-de-Day.
Smith's death is unclear. He sent his last letter home on July 17, two days before he went missing. In his letter, he spoke attending Brigadier General Theodore Roosevelt Jr.'s funeral. Reed went missing on July 19 and was confirmed dead ten days later, on July 29. There is no definite place where he died, but it is likely he died in or near the city of Saint-Lô, France, possibly in hedgerow fighting.
Family members believe that after Reed died, Erma and her family moved to Washington state to work in a war plant during the war. Erma had two brothers, the oldest of whom also died in the war.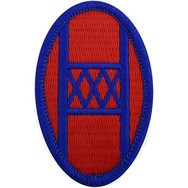 Eulogy
Thomas Reed Smith, Jr. was born on March 6, 1922, in Minneapolis, Minnesota. He grew up in the small farming community of Madison, South Dakota. Growing up in a small town, you become close to the people that you associate with every day. This was one of the connections that I have with him. When you live in such a small community, you create very close ties with everyone. He attended Eastern High School and graduated in 1940. He went on to college at South Dakota State University in Brookings. He joined the ROTC in his first year and was with them until he was deployed. He met the love of his life, Erma Ethel Kirstein, and eventually, she became his wife. They were married on November 25, 1942.
Smith arrived overseas after the initial D-Day landing. He landed on June 16 as a part of the 120th Infantry Regiment of the 30th Infantry Division. He likely fought through all the hedgerows and highlands surrounding Saint-Lô. He was reported missing on July 19, and his death was confirmed on July 29. He was one of the thousands of courageous young men who died in this campaign. They did not die for the valor of war or the recognition. These soldiers died to protect their families and all of their loved ones at home.
He served overseas for a short time, but I do not think time can be measured during the war. So many people died during this war, and they all should be remembered for the sacrifice they gave. This young man was only 22 years old. He was newly married, and he was never given a chance to see his son, Thomas Reed Smith III. All of these men who fought overseas should be remembered in some way. I know Reed is remembered by me and all of you that are here. He is recognized by family and friends of his that are still alive. I know that he is mainly remembered by his son, who carries his name. I want to end with a quote that I think is fitting: "Freedom is not free."
All of us here today should remember that, just as all those affected by wars and conflicts are reminded every day. Thomas Reed Smith died in World War II, and he died a hero of his country. He will not be forgotten.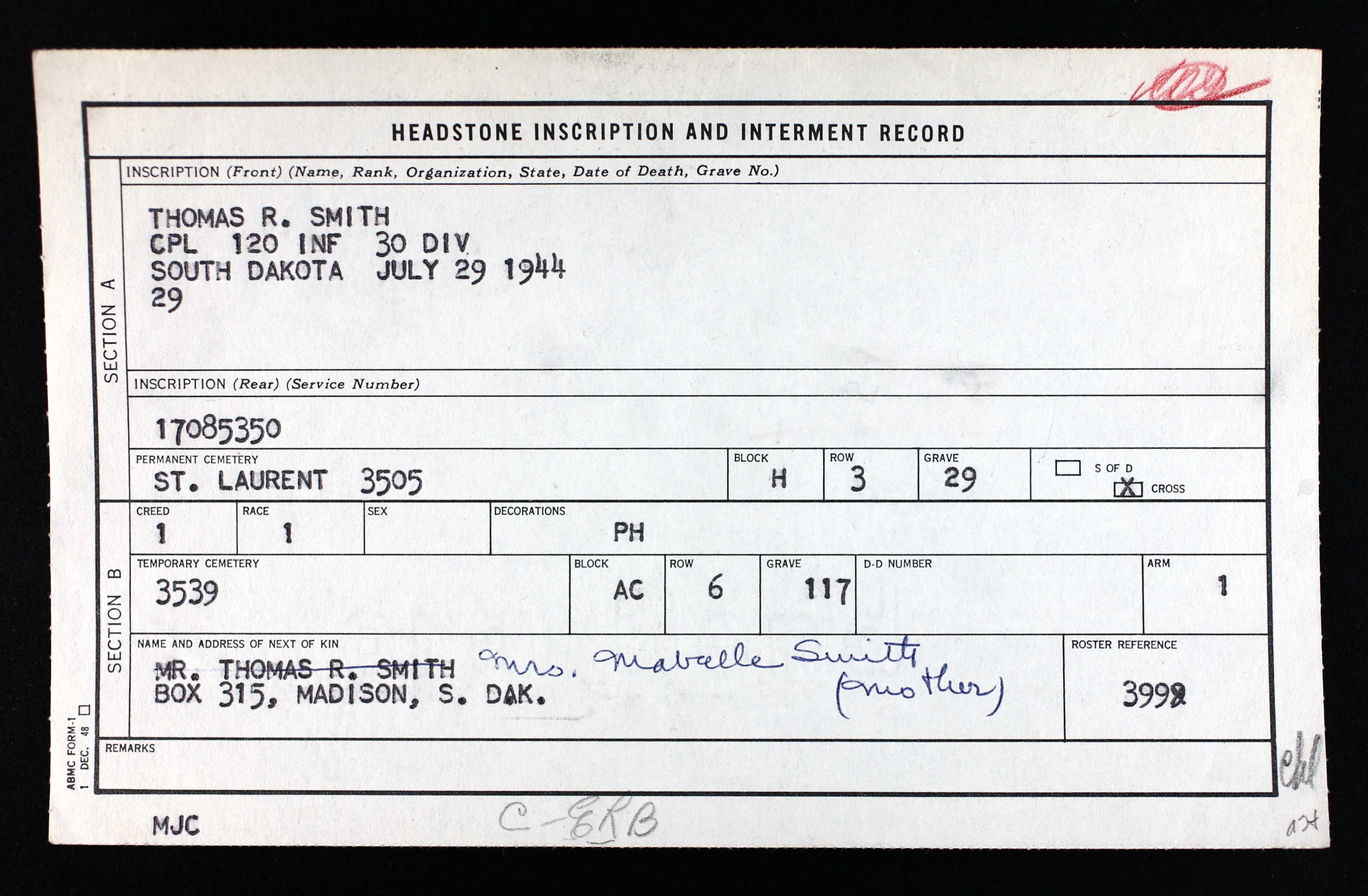 Reflection
Being a part of the Normandy Institute was terrific. I learned so much while I was there. I learned about sacrifice and what the cost of the war was. We lost so many lives because of the war, lives that were just like ours. Reed Smith was in college. He was only six years older than me when he died. In high school, he participated in basketball and FFA. There were even boys my age defending their country and sacrificing their lives for us.
When we were at the cemetery, listening to all of the incredible eulogies for our fallen heroes, I kept thinking about my friends at home. I thought about the young men who just graduated high school, who I had grown up with, and thought of them going off to fight in a war. The thought was terrifying for me. I also thought of my 14-year-old brother, who is thinking about going into the Navy when he gets out of school. It put me in the perspective of the people who were left at home during World War II. Wives, children, siblings, they were all proud of what our men were doing, but they were also scared for them. They were frightened for that letter to come saying that their loved one was gone. I respect those people as much as I do our soldiers. Our soldiers did the fighting, but the people at home were the backbone. They were working in the factories, doing whatever they possibly could to help our soldiers out. And they also had to live with fear.
Some of our soldiers lived such short lives, yet they made so much impact on their country, on the world, even on those who never had the chance to meet them, like me. They knew the meaning of service and helping out those who needed it.
I was honored to be a part of this year's Normandy Scholars. I met so many amazing people, and we all learned so much about each other, our country, history, and the world. I learned so much that I wouldn't have otherwise known. I also learned so much from my research and from the books we had to read. My teacher, Mrs. Lauren Olson, is the reason I even thought about applying for this trip, so if it weren't for her, I wouldn't have had this fantastic experience. I'm also thankful to Dr. Cathy Gorn, Ms. Erikka Washington, and Ms. Lynne O'Hara, for keeping all of us on track and keeping everything organized so that we could learn and perform to our fullest potential.
I was honored to research Reed Smith and to find out more about him. He was part of our world's Greatest Generation, and he should be remembered for his sacrifice. I've loved learning about him, and I would like to find his family and meet them. I want to tell them that I and others have remembered him from around the country at the cemetery in France and for me at home, quite frequently. I'll be doing something in Madison and think, "I wonder how things were for Reed when he was younger. Did he walk down this street? Did he go to the Prairie Village Threshing Days?" Questions pop into my head, wondering what he was like and how things were for him. This journey has been a life-changing experience, and I'll take what I learned during the Institute and use it in the future.
Bibliography
Primary Sources
Adams, Ethel, Editor. The Blue Jay. Eastern High School yearbook, 1940.
Backus, Arlowene, Editor. The Blue Jay. Eastern High School yearbook, 1938.
Bohl, Cynthia, ed. Editor. The Blue Jay. Eastern High School yearbook, 1937.
Crockwell, Spencer Douglass. Work on a farm–this summer: join the U.S. Crop Corps. Poster 1943. Pritzker Military Museum and Library (47006777). www.pritzkermilitary.org/shop/poster-or-print/47006777.
Delay, Bob, Editor. The 1941 Jack Rabbit. Brookings: Student Association of Agriculture and Mechanics Arts, 1941.
Join us on the Farm Front! Poster 1944. University of North Texas Digital Library. digital.library.unt.edu/ark:/67531/metadc547/.
Lake View Township. 1935 South Dakota State Census. ancestry.com.
Seedorf, Don. Letter to Karee Wicks. August 6, 2013.
Seedorf, Don. Personal interview with the author. August 13, 2013.
South Dakota. Lake County. 1930 U.S. Federal Census. Digital images. ancestry.com.
South Dakota. Lake County. 1940 U.S. Federal Census. Digital images. ancestry.com.
Syverud, Warren, ed. The 1941 Jack Rabbit. Brookings: Student Association of Agriculture and Mechanics Arts, 1942.
Thatcher, Janet, ed. The 1941 Jack Rabbit. Brookings: Student Association of Agriculture and Mechanics Arts, 1943.
Thomas R.Smith. Headstone and Interment Records for U.S. Military Cemeteries on Foreign Soil, 1942-1949. Digital images. ancestry.com.
Thomas R. Smith. World War II Army Enlistment Records. National Archives and Records Administration. aad.archives.gov/aad/record-detail.jsp?dt=929&mtch=1&cat=all&tf=F&q=17085350&bc=&rpp=10&pg=1&rid=235677.
Thomas Reed Smith. Minnesota Birth Index, 1900-1934. Digital images. ancestry.com.
Thomas Reed Smith and Erma Ethel Kirstein. South Dakota Marriages, 1905-2017. Digital images. ancestry.com.
"World War II Honor List of Dead and Missing Army and Army Air Forces Personnel From: South Dakota." National Archives and Records Administration. Accessed March 25, 2021. www.archives.gov/research/military/ww2/army-casualties/south-dakota.html.
Secondary Sources
"30th Infantry Division." U.S. Army Center of Military History. Accessed March 25, 2021. history.army.mil/documents/ETO-OB/30id-eto.htm.
"30th Infantry Division Facts." The 30th Infantry Division Veterans of WWII. Accessed March 25, 2021. www.30thinfantry.org/fact_sheet.shtml.
"Bittersweet Harvest: The Bracero Program, 1942-1964." National Museum of American History. Accessed March 25, 2021. americanhistory.si.edu/bracero/introduction.
Blom, Glenda. Personal interview with the author. August 13, 2013.
"CPL Thomas Reed Smith II." Find a Grave. Updated August 8, 2010. Accessed March 25, 2021. www.findagrave.com/memorial/56650171/thomas-reed-smith.
Ganzel, Bill. "Farming in the 1940s: Labor Shortages" Wessels Living History Farm. Accessed March 25, 2021. www.livinghistoryfarm.org/farminginthe40s/money_03.html.
"The Great Plains During World War II." University of Nebraska-Lincoln. Updated 2008. . Accessed March 25, 2021. plainshumanities.unl.edu/homefront/agriculture.html.
Langell, Anne. Fallen Sons & Daughters of South Dakota World War II. Pierre: South Dakota World War II Memorial, 2002.
Robinson, Will G. South Dakota in WWII. World War II History Commission, 1945.
"Thomas R. Smith." American Battle Monuments Commission. Accessed March 25, 2021. www.abmc.gov/decedent-search/smith%3Dthomas-15
Towers, Frank W., and James West. "30th Division Roster." The 30th Infantry Division Veterans of WWII. Accessed March 25, 2021. www.30thinfantry.org/roster.shtml.
Wicks, Steve. Telephone interview with author. August 14, 2013.
Wicks, Terry L. Telephone interview with author. August 14, 2013.