Second Lieutenant Vaughn R. McCormick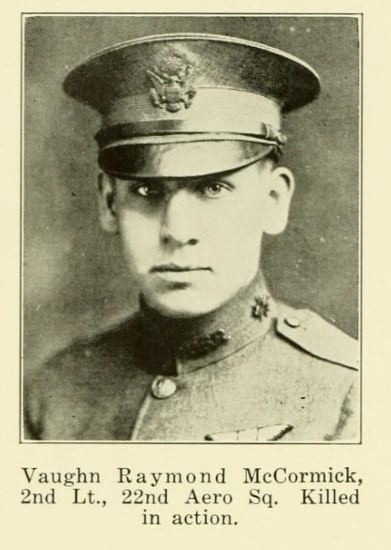 Unit:

22nd Aero Squadron

Date of Birth:

February 22, 1896

Entered the Military:

July 20, 1917

Date of Death:

September 12, 1918

Hometown:

Columbus, Ohio

Place of Death:

near St. Mihiel, France

Cemetery:

Plot D, Row 27, Grave 19.

St. Mihiel American Cemetery, Thiacourt-Regniéville, France
Contributed by Ms. Mary Bezbatchenko
Licking Heights High School
2017–2018
Early Life
Vaughn Raymond McCormick was born in 1896 in Ray, Ohio to Elba and Alta McCormick. Sometime between 1900 and 1910 his family moved to Columbus, Ohio. Elba worked as a justice of the peace and city attorney.
Vaughn attended East High School in Columbus. He graduated in 1914 and continued his education at The Ohio State University (OSU). While at OSU he majored in Arts and Agriculture and ran on the track and cross country teams. McCormick was also a member of the Pi Kappa Alpha fraternity on campus. He enlisted in the Air Service after his junior year.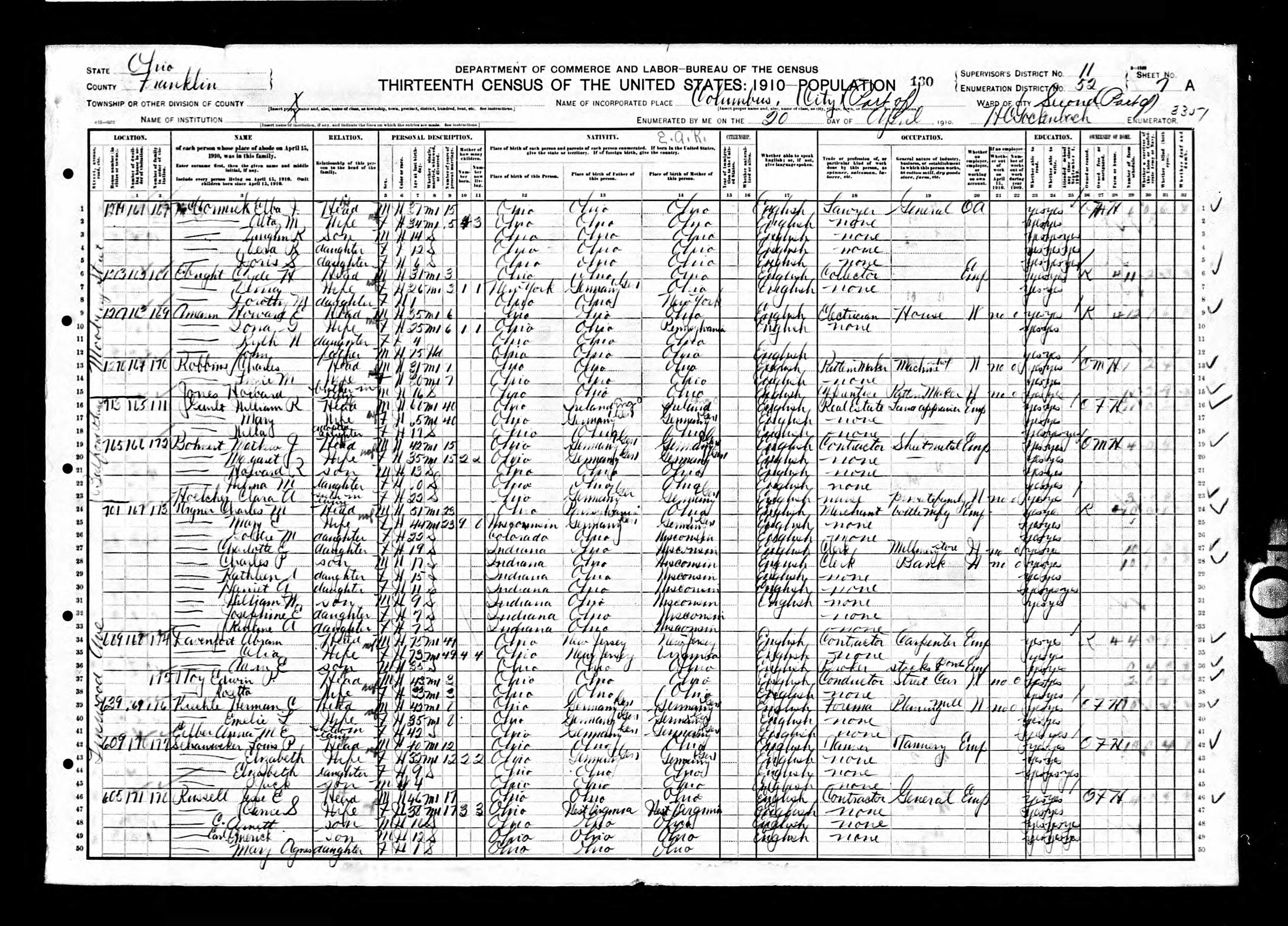 Military Experience
In August 1917, McCormick entered ground school at Ohio State. He trained at Camp Mohawk, a Royal Flying Corps training camp in Canada and then Camp Taliferro in Texas. McCormick sailed in February 1918 to further receive instruction in England and France. He was sent into active service at the front in July 1918 as a second lieutenant of the 139th Aero Squadron.
McCormick is credited with taking down two German Rumplers on August 10 and August 12, 1918. These successes led to a promotion as Flight Commander A for the 22nd Aero Squadron. With this squad McCormick participated in the Battle of St. Mihiel in September 1918.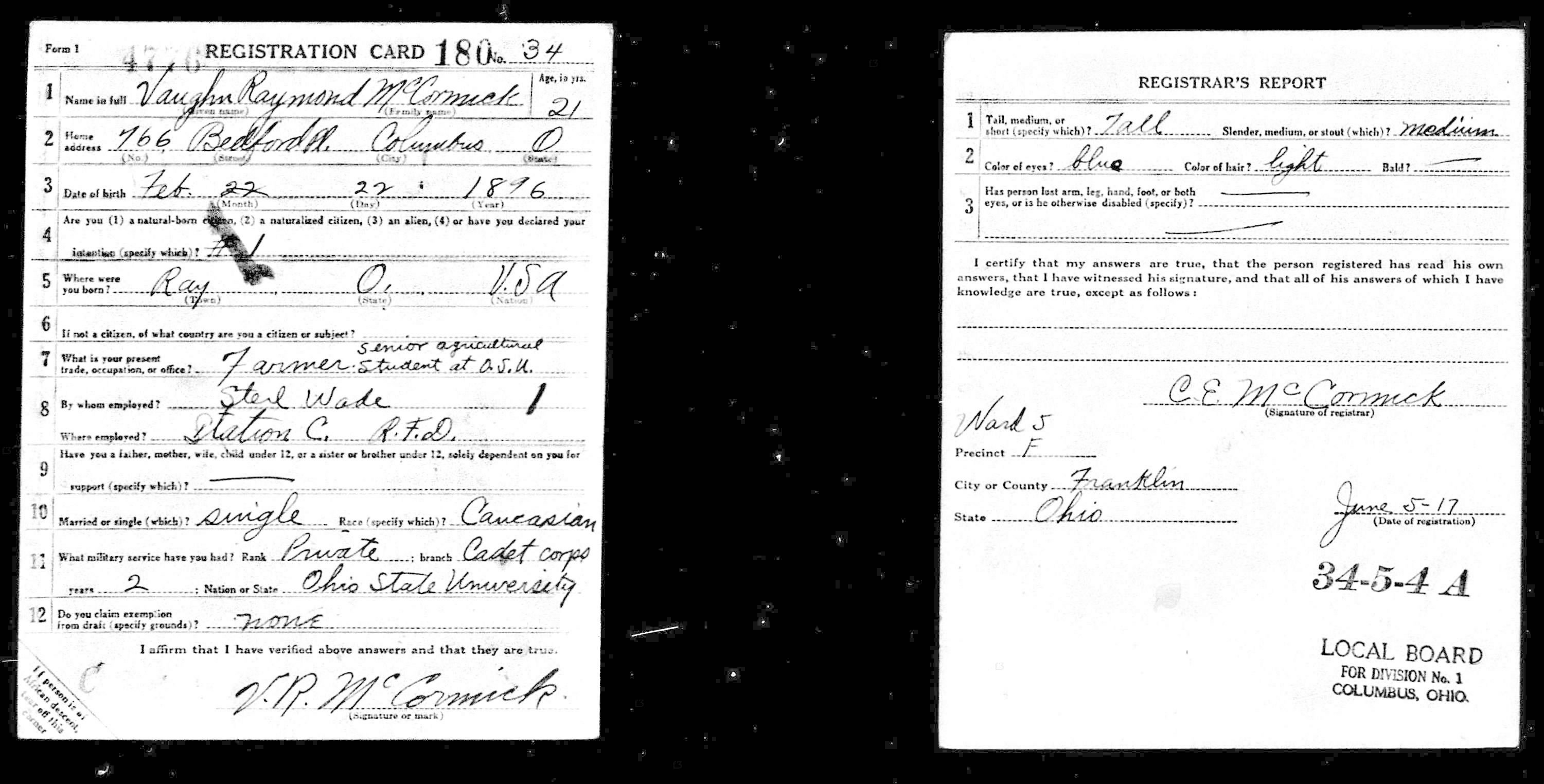 Eulogy
Upon returning to camp on the opening day of the battle, McCormick's plane crashed. It was reported that he sustained gunshot wounds. On September 12, 1918, McCormick was killed in action. He is buried in St. Mihiel American Cemetery in Thiaucourt-Regniéville, France.
In May 1930, McComick's mother, Alta, took advantage of the U.S. government's offer to send mothers to Europe to visit her son's grave.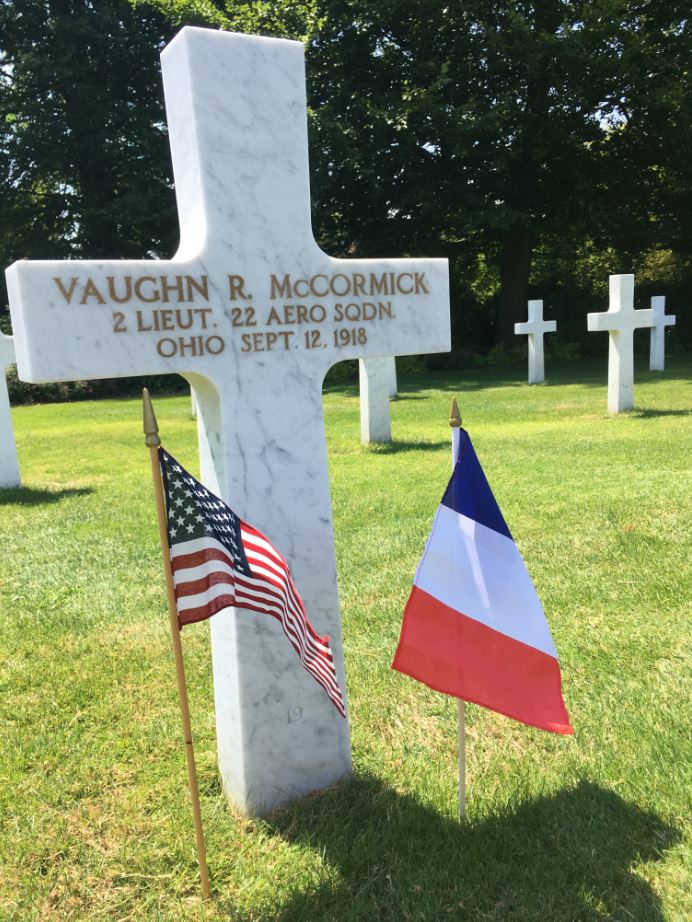 Reflection
Bibliography
Crabbe, J. Roth. "For Which He Laid Down His Life." Shield and Diamond, October 1930. Pi Kappa Alpha Archives. www.pikearchive.org/wp-content/uploads/2017/11/PKA_SD_1930_OCT.pdf#search=vaughn%20mccormick.
Gorrell's History of the American Expeditionary Forces Air Service, Digital Images. Fold3.com.
Ohio. Franklin County. 1910 U.S. Census. Digital Images. ancestry.com.
"Pi Kappa Alpha" The Makio (1917). The Ohio State University. edu.arcasearch.com/usohosy/.
Records of Field Installations, 1917-1940, Records of the 1st – 1111th Aero Squadrons, 1917-1919, Record Group 18 (Box 52); National Archives and Records Administration, College Park, MD.
Records of the War Department General and Special Staffs, Records of the Historical Section Relating to the History of the War Department, 1900-41, Record Group 165 (Box 263); National Archives and Records Administration, College Park, MD.
Trabold, E.B. Group of 139th Aero Squadron. Commanding Captain D.L. Hill. Near Toul, France. Photograph. July 15, 1918. National Archives and Records Administration (111-SC-17944-ac). Image.
"Upper Classes Pick Captains for Track" The Lantern, March 2, 1917. The Ohio State University. digital.olivesoftware.com/Olive/APA/Ohio/#panel=home.
U.S. Army WWI Transport Service, Passenger Lists. Digital Images. Fold3.com.
"Vaughn McCormick." American Battle Monuments Commission. Accessed November 20, 2018. www.abmc.gov/node/324351#.XAgAmHRKiUk
Vaughn McCormick, Official Military Personnel File, Department of the Air Force, Record of the U.S. Air Force Commands, Activities, and Organizations, RG 342, National Archives and Records Administration – St. Louis
Vaughn McCormick, World War I Burial Case File; Correspondence, Reports, Telegrams, Applications and Other Papers relating to Burials of Service Personnel, Records of the Quartermaster General's Office, 1915-1935, Record Group 92; National Archives and Records Administration – St. Louis.
Vaughan McCormick, World War I Draft Registration Cards, 1917–1918. Digital Images. Fold3.com.