Lieutenant Colonel Victor Wieczorek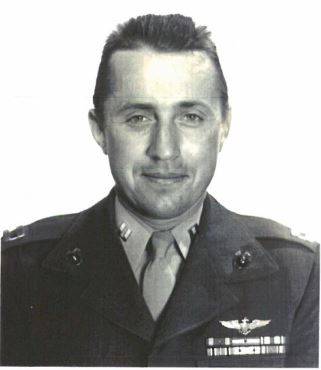 Unit:

VMF 212

Date of Birth:

May 7, 1920

Entered the Military:

April 29, 2010

Date of Death:

November 2, 1942

Hometown:

Dearborn, Michigan

Award(s):

Air Medal with Four Gold Stars and One Silver Star and Distinguished Flying Cross with One Gold Star

Cemetery:

Section 6, Row O, Grave 2389.

Washington Crossing National Cemetery, Newtown, Pennsylvania
Contributed by Mr. Chris Johnson
Central Bucks High School - East
2017–2018
Before the War
Victor Wieczorek, born May 7, 1920, was a native of Dearborn, Michigan, the city he called home at the time of his enlistment. Victor was the oldest of two children born to Stanley and Stella Wieczorek, Polish immigrants. Victor, his sister Alfreda, and his parents resided on Ternes Avenue in Dearborn. Graduating from Fordson High School in 1938, his strongest scores were in math, mechanical drawing, science, and shop.
Vic was fascinated with flight well before entering the U.S. Marine Corps. He was an amateur aviator at his home in Michigan, flying and training with a Civil Air Patrol group there. Also, his daughter recalled a story that Wieczorek would often tell of building an airplane in his family's garage as a teenager, an airplane that he then could not get out of that garage. 
After graduating from high school, Wieczorek worked as an elevator operator and service station attendant before landing a job at Vickers Corporation the next year. Vickers was a manufacturer of airplane parts, and Wieczorek worked as an assemblyman and in the test department for hydraulics. In his spare time, Wieczorek enjoyed flying planes in the Detroit area. Wieczorek's employment with Vickers was deemed crucial to the war effort, and he was assigned 2-B status which exempted him from the draft. Nonetheless, Wieczorek yearned to get into the war effort as an aviator with the United States Marine Corps. 
Military Experience
Wieczorek wanted to be where the action was, and specifically enlisted so that he could become a Marine aviator. He ended up serving his nation in two wars and for a total of 18 years in both active and reserve duty. 
Wieczorek enlisted in the U.S. Marine Corps in late 1942. For most of 1943 he underwent training as a Naval Aviator Cadet, first in Iowa and then in Florida. He maintained an interest in being trained as a fighter pilot, the assignment he eventually earned. He earned his commission as a second lieutenant in November 1943. For much of 1944, Wieczorek served in California at Miramar Air Base and Camp Pendleton awaiting assignment to a squadron. He joined VMF-212 on December 3, 1944.
Second Lieutenant Wieczorek shipped out to the Pacific theater on December 31, 1944. Once he arrived, he flew combat air support missions with VMF-212. As a Corsair pilot, he and his squadron mates supported U.S. Army landings in the Philippines. He also flew missions in the Ryukyu Islands after the U.S. secured control over Okinawa. Wieczorek earned several commendations for his service with VMF-212, and military records indicate that Wieczorek flew at least 55 missions before Japan's surrender.
After the war ended, Wieczorek remained in the U.S. Marine Reserves. He flew with a reserve squadron, VMF-251, at the Naval Air Station in Grosse Ile, Michigan, before relocating to the east coast in 1949 with his young family. After settling down in North Plainsfield, New Jersey, he transferred to MVF-232 in the New York area.
In 1950 Wieczorek was recalled to active duty, flying Corsairs again with VMF-212. Now a captain, Wieczorek and the other pilots in his squadron qualified for aircraft carrier takeoffs and landings. From April through September 1951, VMF-212 operated from Pohang Air Base in southeastern Korea. Their missions included close air support for front line troops as well as interdiction missions.
They continued similar operations from an aircraft carrier, the USS Rendova, from the China Sea in September and October. Wieczorek also qualified as an aerial photographer, bringing home some brilliant photographs of his squadron aboard the USS Rendova. Though Wieczorek was never wounded, the squadron met a significant amount of antiaircraft fire from Communist troops and lost several planes on their deployment due to enemy fire. In Korea, Wieczorek flew at least 50 missions. Wieczorek and his squadron returned home in September 1951.
The air wars in which Wieczorek fought were critical in both World War II and Korea. Rather than engaging in dogfights with enemy fighters, Wieczorek and his squadron mates targeted the guns, armor, and troop formations that opposed American forces on the ground. This important work was often complicated by targets that were hard to identify and communications with spotters that were not always reliable. Wieczorek completed approximately 120 air support and interdiction missions flying Corsairs as part of VMF-212. American ground forces fought beneath skies controlled by U.S. airpower. The soldiers and Marines benefited from the skill and courage shown by aviators like Wieczorek.
These missions were dangerous. Corsairs were vulnerable to ground fire. To minimize the danger coming from fire below, pilots engaged in steep dives that impaired their visibility and increased the risk of crashing. The dangers were compounded by the perils of flying, from landing on aircraft carriers, and contending with the risk that jet-powered enemy fighters could appear. And at the end of day, Wieczorek and his squadron mates returned to a cramped escort carrier, a ship whose abbreviation, CVE, stood for "combustible, vulnerable, expendable" in the dark humor of World War II aviators.
Following his deployment in the Korean War, Wieczorek remained in the U.S. Marines as a reservist. His outfits (VMF-132 until 1956, then MARG-1) were stationed at Floyd Bennett Field in Brooklyn, New York. In 1956, Wieczorek and his squadron received and were qualified on jet fighters which replaced their Corsairs. Wieczorek retired from the U.S. Marines in 1960 as a Lieutenant Colonel.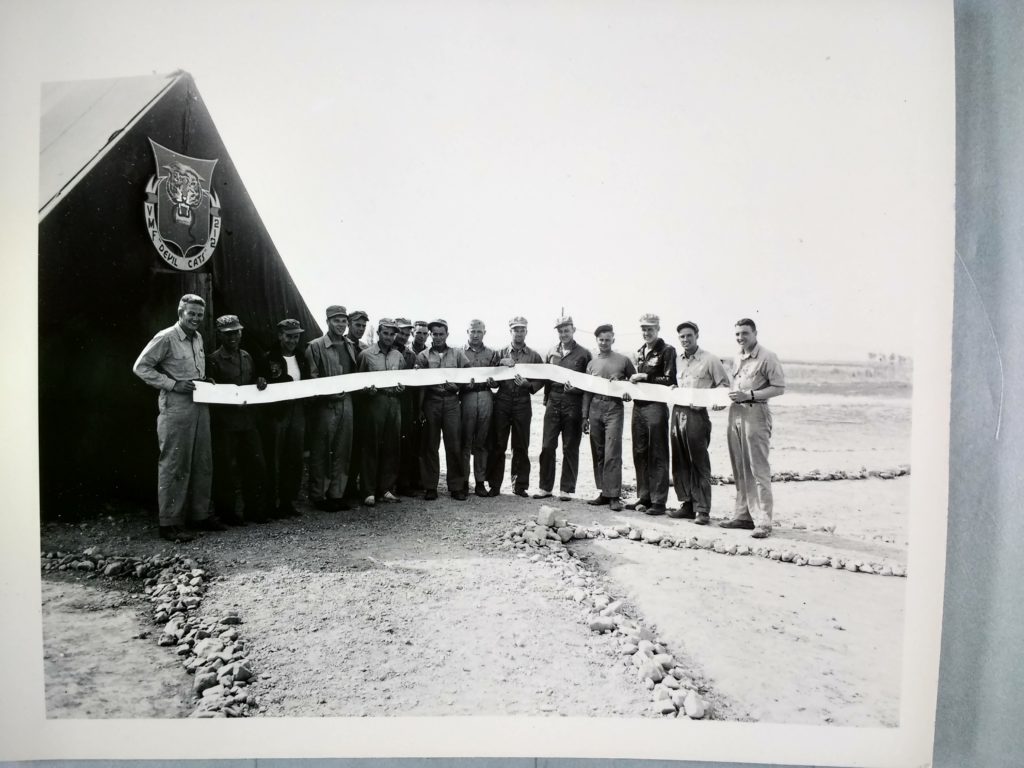 Veteran Experience
During his Marine career, Victor Wieczorek also started a family. He married his wife, Zona Johnston Wieczorek, in 1944. In their 65 years together, they raised three children, Delana, Marcy, and Victor, Jr., and enjoyed the blessing of four grandsons. Wieczorek's death, on April 29, 2010, occurred just two weeks before what would have been his anniversary with Zona.
The Wieczoreks moved to the east coast in 1949 and raised their family in North Plainsfield, New Jersey. Wieczorek's son described their home as a working-class neighborhood with many Polish and Irish Americans. While living there, Wieczorek was not known for keeping still. Instead he was a dedicated worker, father, and husband. He also earned a reputation for his ingenuity at repairs. In his spare time he enjoyed repairing items around his house and his neighbors' homes. A particular joy for him was restoring a Model A Ford he brought with him from Michigan. He also enjoyed photography.
Though Victor's career as a U.S. Marine ended with his retirement, his service to country continued. He was the proud father of a veteran, his son, Victor, Jr., who served in the U.S. Army during the 1970s. His son Victor remembered his father talking with a U.S. Army veteran who lived in their neighborhood. That neighbor, a pilot in the Vietnam War, struggled with his adjustment to civilian life and benefited from Wieczorek's willingness to listen and talk through their combat experiences.
Wieczorek took great pride in his work for Vickers, a subsidiary of Sperry-Rand. This was the same manufacturing firm for which he worked before entering the Marines. In his time with Vickers, Wieczorek served as a hydraulics expert, troubleshooting and designing products. He retired in 1982.
Commemoration
A flight instructor had this to say about Victor Wieczorek, one of his cadets: "Student uses his head. Works hard and is interested. Seems cheerful and qualified for his job." This to-the-point observation describes this veteran, husband, and father. Service to one's country and to one's fellow Marine seems perfectly suitable to one known for using his head and working hard. His neighbors, co-workers, and family saw those qualities in Victor Wieczorek, but, too.
Victor Wieczorek and his wife Zona are buried at Washington Crossing National Cemetery. Dedicated in 2009, Washington Crossing is one of the newest cemeteries overseen by the National Cemetery Association. The cemetery is only 45 miles from the northern New Jersey community where they raised their three children. It is also a mere 15 miles from Doylestown, Pennsylvania, the town to which Wieczorek and his wife moved in 2007 to be closer to two of their children, Delana and Vic, Jr.
Cemeteries such as that at Washington Crossing honor the memory, legacy, and service of servicemen like Victor Wieczorek: a Marine, a father and husband, a resourceful neighbor, a dedicated worker.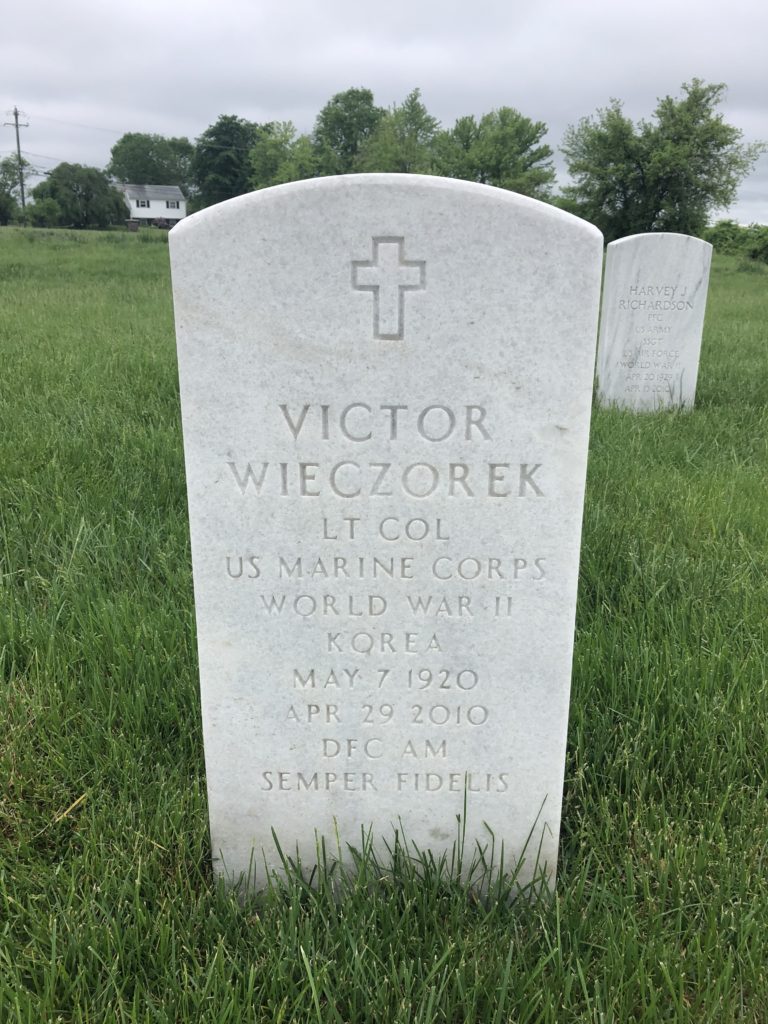 Bibliography
Barker, Hal, ed. "USS Rendova (CVE-114) – War Diary – 23 September 1951 – 9 December 1951." Korean War Project. Accessed August 14, 2018. www.koreanwar2.org/kwp2/usmc/098/m098_cd24_1951_09_2622.pdf.
Bruning, John R. Crimson Sky: The Air Battle for Korea. Dulles: Brassey's, 1999.
Courier News (Somerville, NJ). "Lt. Colonel Victor Wieczorek." Obituaries. May 5, 2010.
Ethell, Jeffrey L., Robert Grinsell, Roger Freeman, David A. Anderton, Frederick A. Johnsen, Bill Sweetman, Alex Vanags-Baginskis, and Robert C. Mikesh. The Great Book of World War II Airplanes. Illustrated by Rikyu Watanabe. N.p.: Bonanza Books, 1984.
Hastings, Max. The Korean War. New York: Simon and Schuster, 1987.
Ibid. Retribution: The Battle for Japan, 1944-45. New York: Alfred A. Knopf, 2008.
The Intelligencer (Doylestown, PA). "Zona Wieczorek." Obituaries. February 25, 2014.
Leaf, Dan. "Air Power and Innovation – World War II through the Space Age." Lecture, Pacific Aviation Museum, Pearl Harbor, HI, July 19, 2018.
Letter for Miss Kay: Marines from VMF-212 Display a Letter for Hospitalized Girl. Photograph. 1951. National Archives and Records Administration (127-N_A131639). Image.
Malkasian, Carter. The Korean War, 1950-1953. Essential Histories. Long Island City: Osprey Publishing, 2001.
Michener, James A. The Bridges at Toko-Ri. New York: Dial Press, 1953.
Michigan. Wayne County. 1940 U.S. Census. Digital Images. http://ancestry.com.
Records of the United States Marine Corps. Prints: Marine Corps Activities, By Subject, 1775-1958. Record Group 127-GS (Box 3); National Archives at College Park, College Park, MD.
"Victor Wieczorek." National Cemetery Association. U.S. Department of Veterans Affairs. Accessed August 14, 2018. https://gravelocator.cem.va.gov/index.html?cemetery=N926.
Victor Wieczorek, Freedom of Information Act Documents, Department of the Navy, Records of the Bureau of Naval Personnel, RG 24, National Archives and Records Administration – St. Louis.
Victor Wieczorek, Naval Aviation Training Jacket, Department of the Navy, Records of the Bureau of Naval Personnel, RG 24, National Archives and Records Administration – St. Louis.
Victor Wieczorek, Official Military Personnel File, Department of the Navy, Records of the Bureau of Naval Personnel, RG 24, National Archives and Records Administration – St. Louis.
Wieczorek Family Photographs. 1951-2004. Courtesy of Victor Wieczorek, Jr.
Wieczorek, Jr., Victor. Interview by the author. May 30, 2018.