Corporal William Charles Herman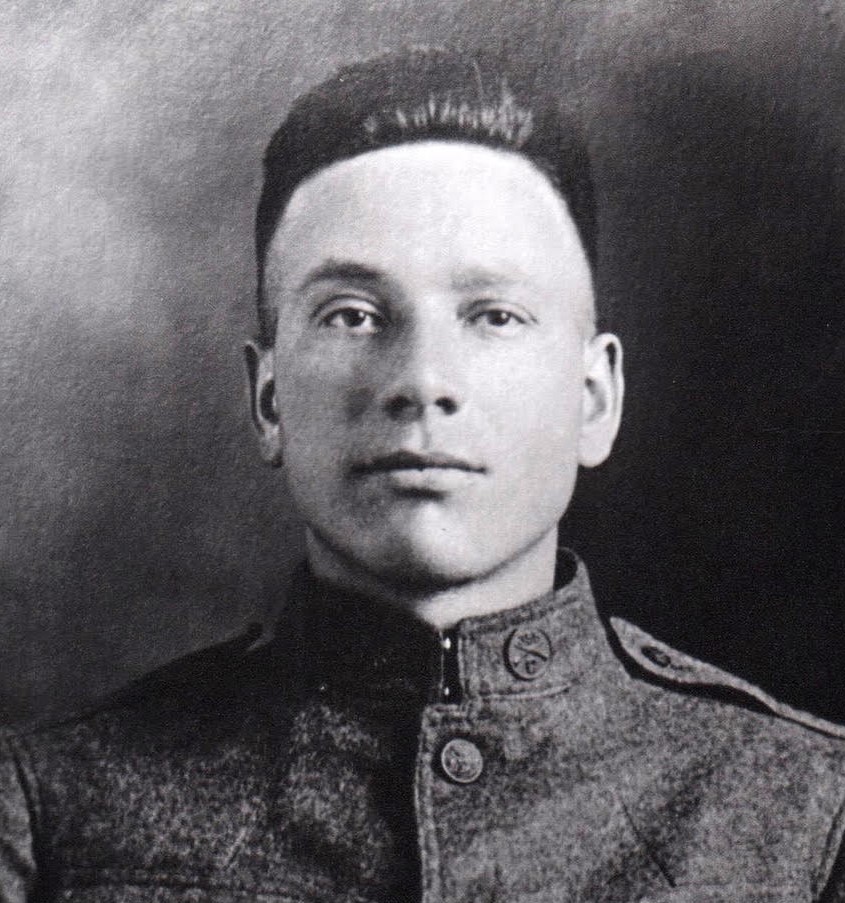 Unit:

89th Division, 355th Infantry Regiment, Company C

Date of Birth:

April 4, 1895

Entered the Military:

March 5, 1918

Date of Death:

November 4, 1918

Hometown:

Alliance, Nebraska

Place of Death:

near Beauclair, France

Cemetery:

Plot F, Row 19, Grave 20.

Meuse-Argonne American Cemetery, Romagne-Sous-Montfaucon, France
Contributed by Mr. Michael Sandstrom
Chadron High School
2018-2019
Early Life
William Charles Herman, known as Will to his friends and family, was born on April 4, 1895 to Ignatius and Caroline Herman. His father, Ignatius, grew up in an Austrian household and spoke German as his first language. In 1867, he immigrated with his parents to the United States. Caroline was raised in a German household and grew up as a second generation American in Wisconsin and Iowa. In 1886, the couple married in Palo Alto, Iowa. Eventually, their marriage produced seven surviving children (Rose, Jacob, Kate, John, William, George, and Hazel) who grew up in Scotia, Nebraska in Greeley County.
By 1910, the family moved to Alliance, Nebraska, a growing railroad town well on its way to doubling its population. Ignatius purchased his own butcher's shop, the Palace Meat Market. The meat market was a family affair with Caroline, three sons, and one son-in-law working for the business. As an adolescent, William worked for his father's shop as a delivery boy and later followed his father's chosen profession becoming a butcher. At the age of 22 years old, William was a stout man standing five feet nine inches with brown hair.
The German-American population made up a fairly large percentage of the population when the war broke out in 1914. Early events in the war, including the sinking of the RMS Lusitania, turned public opinion against Germany. When the United States entered the war in 1917, the young men of Alliance answered the call.
Both William and his older brother, John, registered for the draft. In September, the U.S. Army drafted John, who departed Alliance for Camp Cody, a U.S. Army training camp in New Mexico. On March 5, 1918, William received his draft notice and his life became intertwined with the swirl of global currents known as the Great War.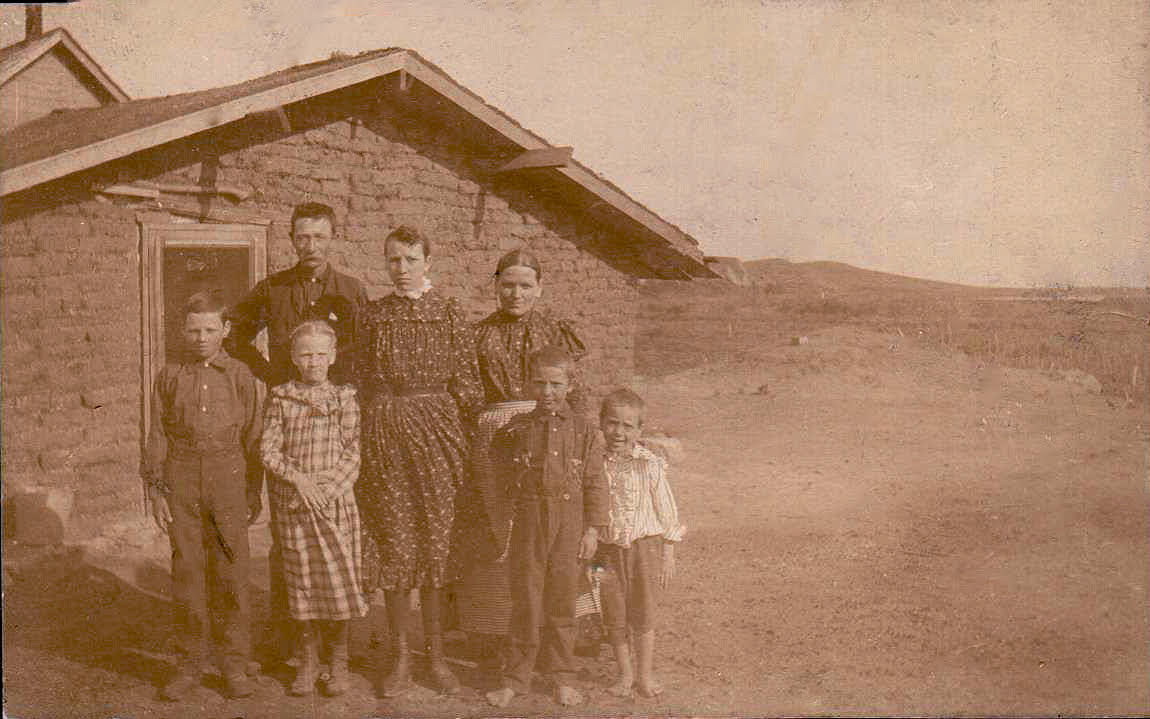 Military Experience
Training Operations
Upon entering the service, the U.S. Army assigned Herman to the 89th Division, 355th Infantry Regiment. The 89th Division consisted of Midwesterners from Missouri, Kansas, Nebraska, Colorado, South Dakota, Arizona, and New Mexico. The division became known as the "Fighting Farmers" and served with distinction. Herman's regiment hailed primarily from Nebraska and performed their training operations at Camp Funston, Kansas.
The bulk of Herman's regiment arrived at Camp Funston in September and October 1917. The soldiers found life at camp to be both bleak and intense. Work battalions labored around the clock to complete the heating, water, and sewer systems. Soldiers drilled most of the day and endured the monotony of military life. In the early days, the men even lacked rifles and were forced to use wooden rifles for training purposes.
For diversions, the regimental history noted that "leaves of absence, furloughs or passes of any kind were unknown." However, as fall progressed into winter, competition between platoons, companies, regiments, and divisions were encouraged. For major troop reviews, the 355th Infantry Regiment occupied the practice trenches on Carpenter Hill. They visited the rifle range at Fort Riley, Kansas.
Herman arrived in mid-March. He set to work integrating himself into a combat unit hardened by more than six months of military discipline. Roughly two months after Herman's arrival, the regiment departed Camp Funston.
In two separate allotments, the troops boarded trains bound for New York City. The trains arrived three days later on May 24 and 25 and the regiment spent a week at Camp Mills on Long Island, New York. On June 3, the long-awaited trip across the Atlantic began as the men boarded two White Star liners, the USS Baltic and the USS Adriatic. The passage proved uneventful and the regiment reached England on June 16.
A week later, the regiment departed on small troop transports for French shores. Upon arrival, they received training from American, British, and French officers miles behind the front. By August 1918, after almost an entire year of training and drilling, the 355th Infantry Regiment was ready to face the Germans in combat.
Combat Operations
Herman's brief service included a great deal of contact with German soldiers and included much of the trauma encountered by American doughboys. On August 4, the 355th Infantry Regiment's first battalion relieved the 327th Infantry Regiment at Beaumont along the front lines. During the late hours of August 7 and early hours of August 8, German soldiers released a gas shell bombardment that devastated the battalion.
The attack lasted from 10:00 p.m. until 4:00 a.m. and included at least 1,000 gas-filled shells. The shells contained mixtures of chlorine and phosgene gas. The bombardment killed one officer and wounded ten. It also claimed the lives of 56 enlisted men and wounded another 263. In Herman's Company C, five men lost their lives and 20 were wounded. The battalion withdrew to a more favorable position. From these positions near Beaumont, France, the 355th Infantry Regiment conducted raids, patrolled the enemy wire, gathered information for the upcoming offensive, and captured several prisoners.
St. Mihiel Offensive
American military officials planned a major offensive in a previously "quiet" sector known as St. Mihiel. The battle began on September 12 with one of the war's largest artillery bombardments, which set the stage for the infantry maneuvers. The regiment's third battalion went "over the top" at 5:00 a.m. and Herman's first battalion followed shortly after. The unit pursued the Germans until dark and the regimental history noted, "that night we feasted on German food, drank German beer and smoked German cigars. We advanced so rapidly that the Germans had to leave goods, supplies, ammunition and guns behind."
The following day, the regiment pushed their adversary another four miles and occupied the town of Xammes, France. Herman's unit held this position until October 8 when they were relieved. During the intervening period, the Germans once again subjected the Americans to a gas attack. In one of his last letters home, Herman specifically mentioned his involvement in the September 12 operation.
In total, the St. Mihiel offensive produced 2,287 German prisoners and captured 1,177 artillery pieces. The cost to the regiment included another 73 dead, nine missing, and 251 wounded. Herman's company lost 19 casualties, including one killed in action. Units from the 37th Division relieved the 355th Infantry Regiment from their position. Their rest period, after two months of intensive operations, however, was not going to be as long or restorative as the men expected.
Meuse-Argonne Offensive
Within a week and a half, the 355th Infantry Regiment took up positions near Bantheville, France for America's largest operation of the war, the Meuse-Argonne Offensive. This campaign included 1.2 million American servicemen and was the single deadliest offensive in American history as it resulted in 26,277 men killed in action.
The 355th Infantry Regiment played a leading role in this operation, especially in the last major push from November 1 to 11. Herman's battalion advanced toward Bantheville at 10:00 a.m. on November 1. They moved slowly through heavy rain, complete darkness, and thick forests. Under these difficult circumstances, the only means of navigation proved to be a compass.
After enduring an extensive barrage by German artillery, the 355th Infantry Regiment attempted to take the town of Beauclair in France on November 4. That day proved to be a fateful one for Corporal Herman as he was killed at 11:00 a.m., exactly one week before the armistice. Herman was one of 651 casualties from the 355th Infantry Regiment during this offensive, including 118 killed, 17 missing, and 516 wounded. He died from a gunshot wound to the head, while advancing against German machine guns in the woods outside Beauclair, France. He fell just to the left of a stone house on the right side of the town.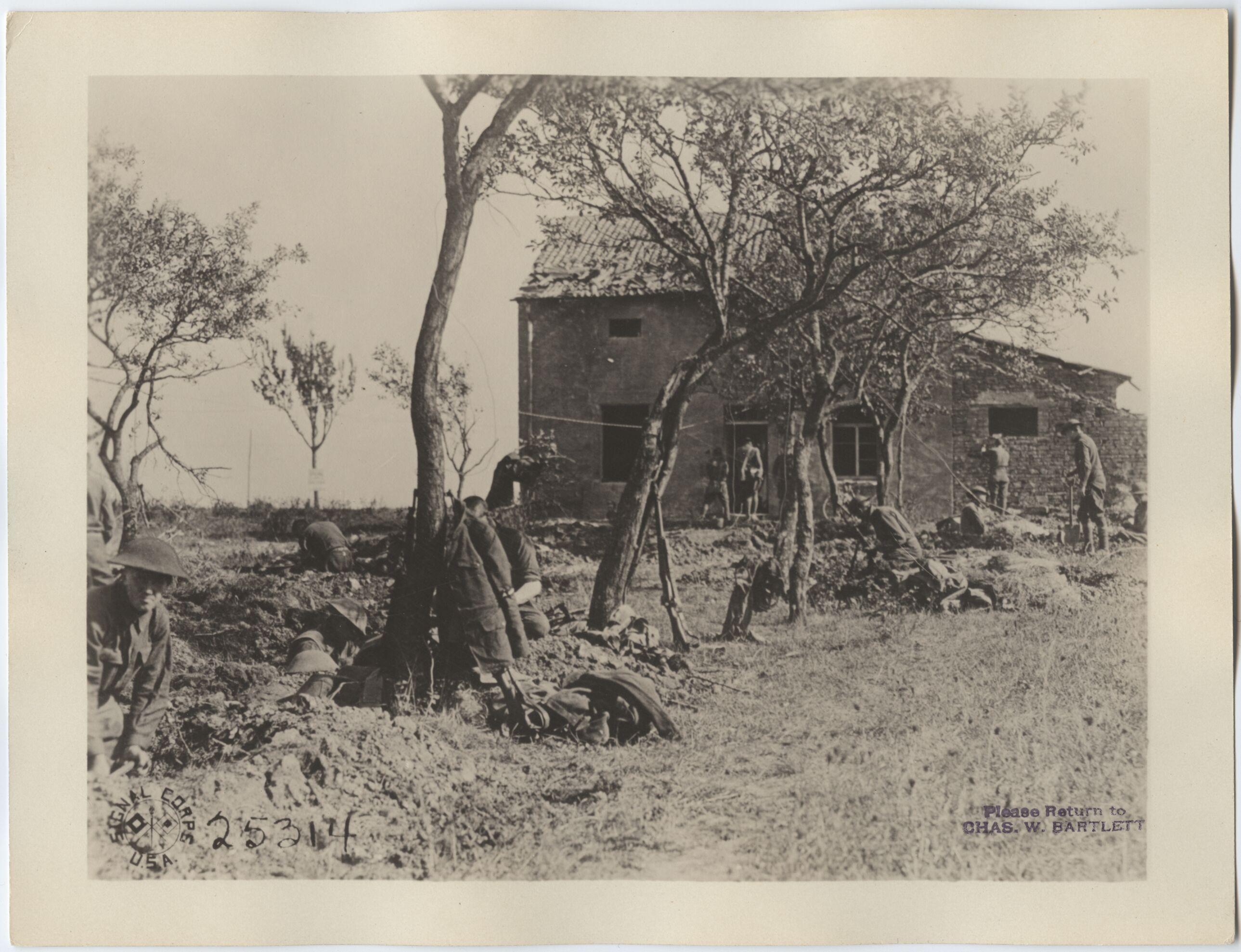 Eulogy
Corporal Herman's regiment was among the units that helped liberate the French cities of Beauclair, Beaufort, Laneuville, Luzy, and Cesse. It entered the French city of Stenay on November 11, just before the armistice took effect. The Corps Commander provided for the relief of the 89th Division from front line duty several times after November 1, but the Division Commander requested permission to complete the mission. Corporal William Charles Herman's body was interred in a temporary gravesite near the battlefield until the U.S. government built Meuse-Argonne American Cemetery.
On October 30, during a momentary lull in the Meuse-Argonne offensive, Herman penned his final letter home. This letter, along with two others, arrived in Alliance on Tuesday, December 3, 1918. The letters, however, only provided momentary relief for his anxious parents. The next day at 3:30 p.m., the U.S. War Department notified Ignatius and Caroline of their son's death. Herman's brother, John, who was still serving in France, had not been notified by November 8. Back in Alliance, the family scheduled funeral services for Sunday December 7, 1918, to commemorate their fallen warrior.
After the war, the Herman family moved to California, where his mother wrote the U.S. Army requesting that her son's remains stay in France, "provided that it be cared for and marked." He was buried with his comrades in Meuse-Argonne American Cemetery in plot F, row 19, grave 20. She declined the opportunity to travel to France as a Gold Star Mother in 1929 and again in 1932.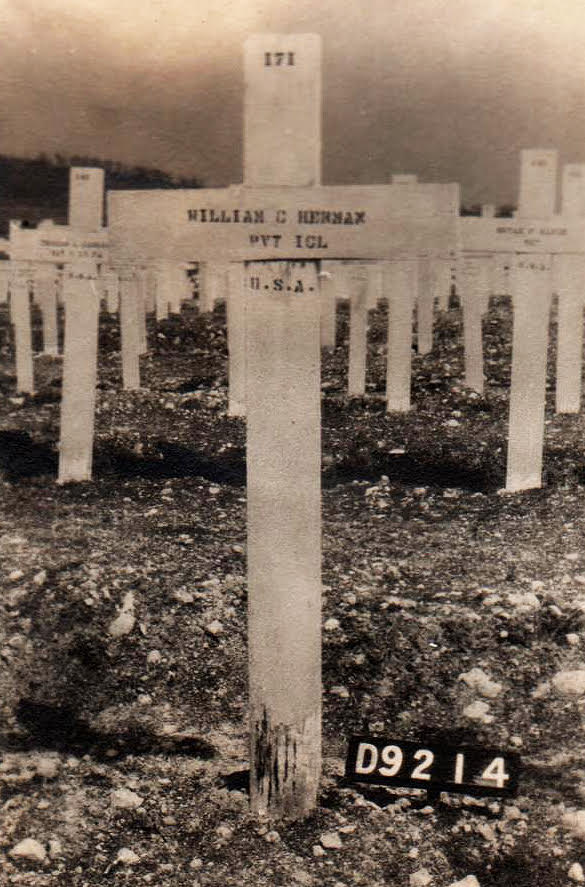 Reflection
Bibliography
89th Division; Records of Combat Divisions, 1918-1919, Records of the American Expeditionary Forces (World War I), Record Group 120 (Boxes 38-40); National Archives at College Park, College Park, MD.
Battalion headquarters…Beney, Meuse, France. September 10, 1918. Photograph. September 10, 1918. National Archives and Records Administration (111-SC34945). Image. Collection of the National World War II Museum and Memorial (1926.28.142). theworldwar.pastperfectonline.com/photo/648AD937-4B4C-4DB7-91E0-054347613720.
Dale, R. E., "Back to Normal." Nebraska History 38 (September 1957), 180-184.
Herman Family Photographs and Papers, c. 1900-1920. Courtesy of Becci Thomas.
Iowa Department of Public Health. Iowa Marriage Records, 1880–1922. Textual Records. State Historical Society of Iowa, Des Moines, Iowa.
Jensen, Richard E. "Nebraska's World War I Potash Industry." Nebraska History 68 (Spring, 1987), 28-42.
Jones, Carlisle, L. History and Roster of the 355th Infantry, 89th Division. Lincoln: The Society of the 355th Infantry, 1919.
Nebraska. Box Butte County. 1910 U.S. Federal Census. Digital Images. ancestry.com.
Nebraska. Box Butte County. 1920 U.S. Federal Census. Digital Images. ancestry.com.
Nebraska. Box Butte County. 1930 U.S. Federal Census. Digital Images. ancestry.com.
Nebraska. Box Butte County. 1940 U.S. Federal Census. Digital Images. ancestry.com.
Nebraska. Greeley County. 1900 U.S. Federal Census. Digital Images. ancestry.com.
Palace Meat Market Advertisement. Alliance Herald. 1910. Nebraska Newspapers. nebnewspapers.unl.edu/.
Pouilly, Meuse, France….84 prisoners were captured. November 13, 1918. Photograph. November 13, 1918. National Archives and Records Administration (111-SC-25314). Image. Collection of the National World War II Museum and Memorial (1926.28.204). theworldwar.pastperfectonline.com/photo/949AF942-DA19-4E67-A07A-278224444928.
Trabold, Private E. Gassed patients of 82nd and 89th Divs. The 326th Field Hospital was not large enough…North of Royaumeix, France. Photograph. October 15, 1918. National Archives and Records Administration (111-SC-022012-ac). Image.
War Diaries (89th Division); Records of the American Expeditionary Forces (World War I), Record Group 120 (Boxes 2927-2928); National Archives at College Park, College Park, MD.
"Will Herman Was Buried in France." Alliance Herald. December 5, 1918. Nebraska Newspapers. nebnewspapers.unl.edu/.
William C. Herman World War I Burial Case File and Deceased Veterans Claim File (XC-110,974); Correspondence, Reports, Telegrams, Applications and Other Papers relating to Burials of Service Personnel, Records of the Quartermaster General's Office, 1915-1935, Record Group 92; National Archives and Records Administration – St. Louis.
William C. Herman. World War I Selective Service System Draft Registration Cards. ancestry.com.
"William Charles Herman." American Battle Monuments Commission. Accessed January 7, 2018. www.abmc.gov/node/336011#.XDJ8Yc9Kj6Z.
The World War with Company "A" 356th Infantry 89th Division National Army. Treves: The "Paulinus-Druckerei," 1919.