Private William Denison Call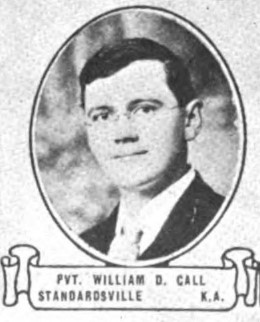 Unit:

4th Division, 39th Infantry Regiment, Machine Gun Company B

Date of Birth:

September 14, 1892

Entered the Military:

April 24, 1918

Date of Death:

August 29, 1918

Hometown:

Stanardsville, Virginia

Place of Death:

Septsarges, France

Cemetery:

Plot D, Row 17, Grave 5.

Meuse-Argonne American Cemetery, Romagne-Sous-Montfaucon, France
Contributed by Stephanie Hammer
William Monroe Middle School
2018–2019
Early Life
On October 4, 1892, William Denison Call was born in Madison, Virginia. At the time of his birth, Call's father, Millard, was 36 and his mother, Fannie, was 29. As a young boy, he moved with his family to Stanardsville, Virginia. Stanardsville, known as the last stop for travelers crossing the Blue Ridge Mountains, was a thriving farming community.
Call, the oldest of 17 children, lived on the family farm along South River. William attended Dundee School, sometimes walking, sometimes riding his horse to get there. Along the way he fished for trout and trapped rabbits that he sold for a nickel each to help support his family. When the military called him to serve, William had been supporting his family by working as a machinist in Wilmington, Delaware.
In 1918, Call left behind his father, mother, eight brothers, and eight sisters to go fight for the United States and the Allied cause. His niece, Loretta Spittle, from Springfield, Virginia, said that her uncle, "was always referred to as Uncle Willie by my grandmother, Elsie Lee Catterton Call, who married Uncle Willie's brother, Edwin Twyman Call."
Call's community rallied to support the war effort. The Greene County Red Cross raised money to honor their local sons and husbands fighting in Europe by selling quilt squares. Their appreciation for Willie's service to the country is reflected in the community's Red Cross quilt.
Military Experience
Private William Denison Call, inducted into service on May 24, 1918, attended training at Camp Lee in Virginia. Ready to serve his country, Call shipped overseas with the 20th Provisional Company Infantry Replacement from Newport News, Virginia on July 26, 1918. He boarded the Duca D'Aosta, an Italian transport ship chartered by the U.S government. These chartered ships carried soldiers abroad under the direction and supervision of the United States Naval Group Commander. Devoted women of the Red Cross Service served hot coffee, sandwiches, and cigarettes when he and other soldiers boarded the ship. At the end of the gangway a naval officer gave Call a card and his ticket with printed instructions about where he would sleep, eat, his abandon ship station, and the rules he must observe while serving in the U.S. Army.
Upon arrival, Call received orders to join the Fourth Division, 39th Infantry Regiment, Machine Gun Company B, a newly organized unit. The Fourth Division traveled by rail to the training area north of Chaumont, France and became part of the American First Army. The 39th Infantry Regiment joined the St. Mihiel operation.
On September 12, a rainy, pitch black night, the regiment was ordered to close the gap in the line. The men marched 11 miles in seven and a half hours to reach a position west of Les Éparges, France. As Call and his comrades bivouacked in the woods near Hill 378, they faced constant shell fire. On September 19, they moved to Lemmes, France and then Esnes, France on the Meuse Argonne front as Allied forces prepared for the greatest of all offensives of the war. This offensive extended from the North Sea to the Swiss border and was designed to destroy the remnants of the German military machine.
From the trenches of Esnes, Call and his comrades marched through three kilometers of communication trenches to the front line on Hill 304. The final attack began at 2:30 a.m. on September 26. Artillery bombardment pounded fortified enemy positions beyond recognition. The line, obscured by dense fog, moved forward with energy and determination. On September 28, the enemy withdrew from the attack as troops advanced south of Nantillois, France. Under heavy machine gun fire at the southern edge of Bois de Fay in France, the 39th Infantry Regiment clung to its position.
On September 29, the 39th Infantry Regiment faced heavy artillery fire and enemy aviators in the Bois de Septsarges in France. Advancing through five kilometers of barbed wire and difficult terrain, they penetrated deep into enemy lines. The German Imperial Army, immovable for four years, fell back in the face of the advance. Nearly 2,000 prisoners, 30 cannon, and numerous machine guns, minenwerfer, and trench mortars were captured along with the important French town of Montfaucon. The 39th Infantry Regiment suffered tremendous losses, 1,187 wounded and 292 killed.
Call was killed by a bullet to his skull while under heavy fire from enemy aviators on September 29, 1918. Among his personal possessions that were returned to his family were his gold-trimmed eyeglasses and his personal Bible. It is believed his Bible may have been open at the time of his death because there are blood drops splattered on several pages. The Corps Commander, in general orders, cited the gallant conduct of the 4th Division against great difficulties of the Bois du Fays and the holding of it against repeated and determined counterattacks.
The Fourth Division continued their attack between the Argonne Forest and the Meuse. Soldier morale was high and they were determined to vindicate their comrades who had so bravely made the supreme sacrifice.
In General Orders No. 71 on October 28, 1918, from the Headquarters Fourth Division, American Expeditionary Forces, France, it was said of the 39th Infantry Regiment, "The machine gun unit had splendid team work and devotion to duty and contributed to the success won in the struggle for world freedom.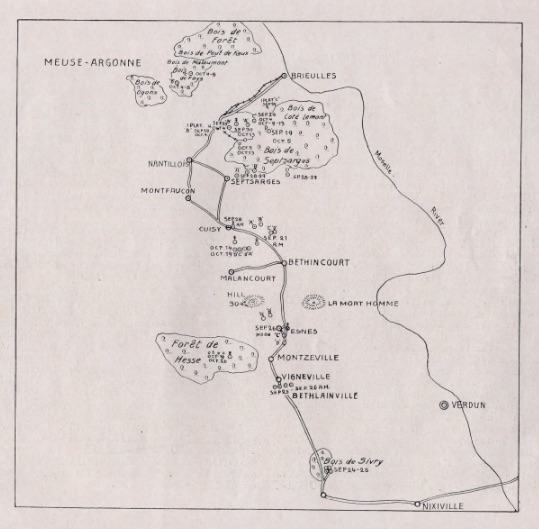 Eulogy
William Denison Call is buried in Meuse-Argonne American Cemetery, Romagne-Sous-Montfaucon, France. Call is remembered, along with three other fallen heroes of Greene County, Virginia, on the World War I Memorial in front of the Courthouse in Stanardsville, Virginia. The inscription on the monument states, "To the memory of the Greene County men Who fought in the World War."
On December 26, 1918, James W. McAndrew, Chief of Staff, By Command of General Pershing said, "In the name of our country, I offer hearty and unmeasured thanks to these splendid Americans of the Fourth Division."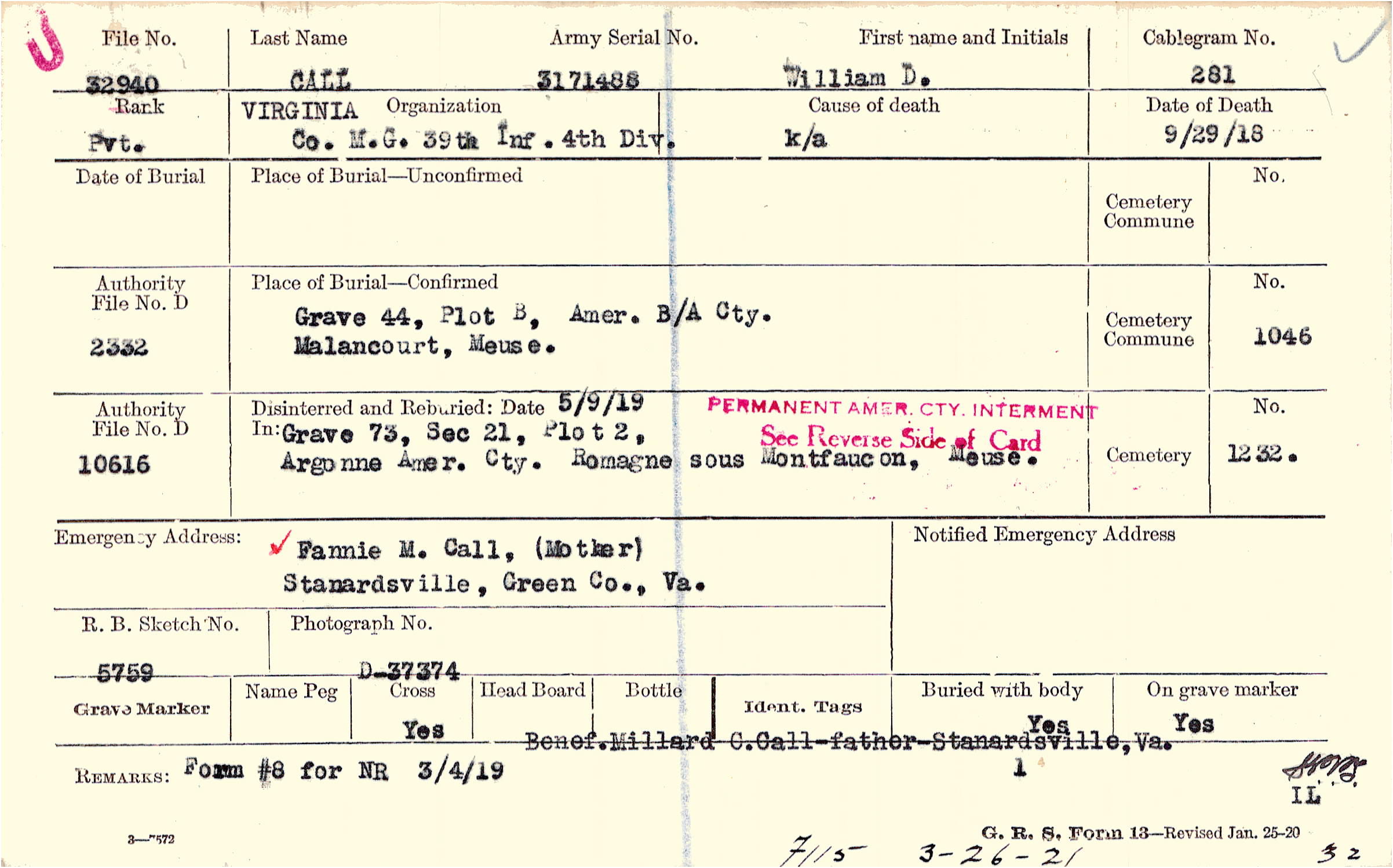 Reflection
Bibliography
4th Division; Records of Combat Divisions, 1917-1919, Records of the American Expeditionary Forces (World War I), Record Group 120 (Boxes 42-43); National Archives at College Park, College Park, MD.
American Battle Monuments Commission. 4th Division Summary of Operations in the World War. Washington, D.C.: United States Government Printing Office, 1944. books.google.com/books?id=1fYOAQAAIAAJ&printsec=frontcover#v=onepage&q&f=false.
Battery "F", 16th Field Artillery, on Hill 295, firing French 75's at a German battery….Nantiollois, Meuse, France. Photograph. September 28, 1918. National Archives and Records Administration (111-SC-45813). Image.
Cole, Richard Barrett, and Barnard Eberlin. The History of the 39th Infantry During the World War. New York: J. D. McGuire, 1919. archive.org/details/historyof39thusi00colerich/page/n5.
Gibbon, Private J. E. German Prisoners Arriving From the Front….Montzeville, Meuse, France. Photograph. September 26, 1918. National Archives and Records Administration (111-SC-17620-ac). Image.
Gleaves, Vice Admiral Albert. The History of the Transport Service, Adventures and Experiences of United States Transport and Cruisers of the World War. New York: George H. Doran Company, 1921. books.google.com/books?id=_7lDrNswDnoC&printsec=frontcover&source=gbs_ge_summary_r&cad=0#v=onepage&q&f=false.
"William D. Call." Database of Virginia Military Dead. Library of Virginia. www.lva.virginia.gov/public/guides/vmd/vmd_Search.asp.
"William D Call." World War I Burial Card. National Archives and Records Administration (108999337).
William D. Call World War I Burial Case File, Deceased Veterans Claim File (XC-71,818) and VA Master Index Card; Correspondence, Reports, Telegrams, Applications and Other Papers relating to Burials of Service Personnel, Records of the Quartermaster General's Office, 1915-1935, Record Group 92; National Archives and Records Administration – St. Louis.