Private William Rice Spann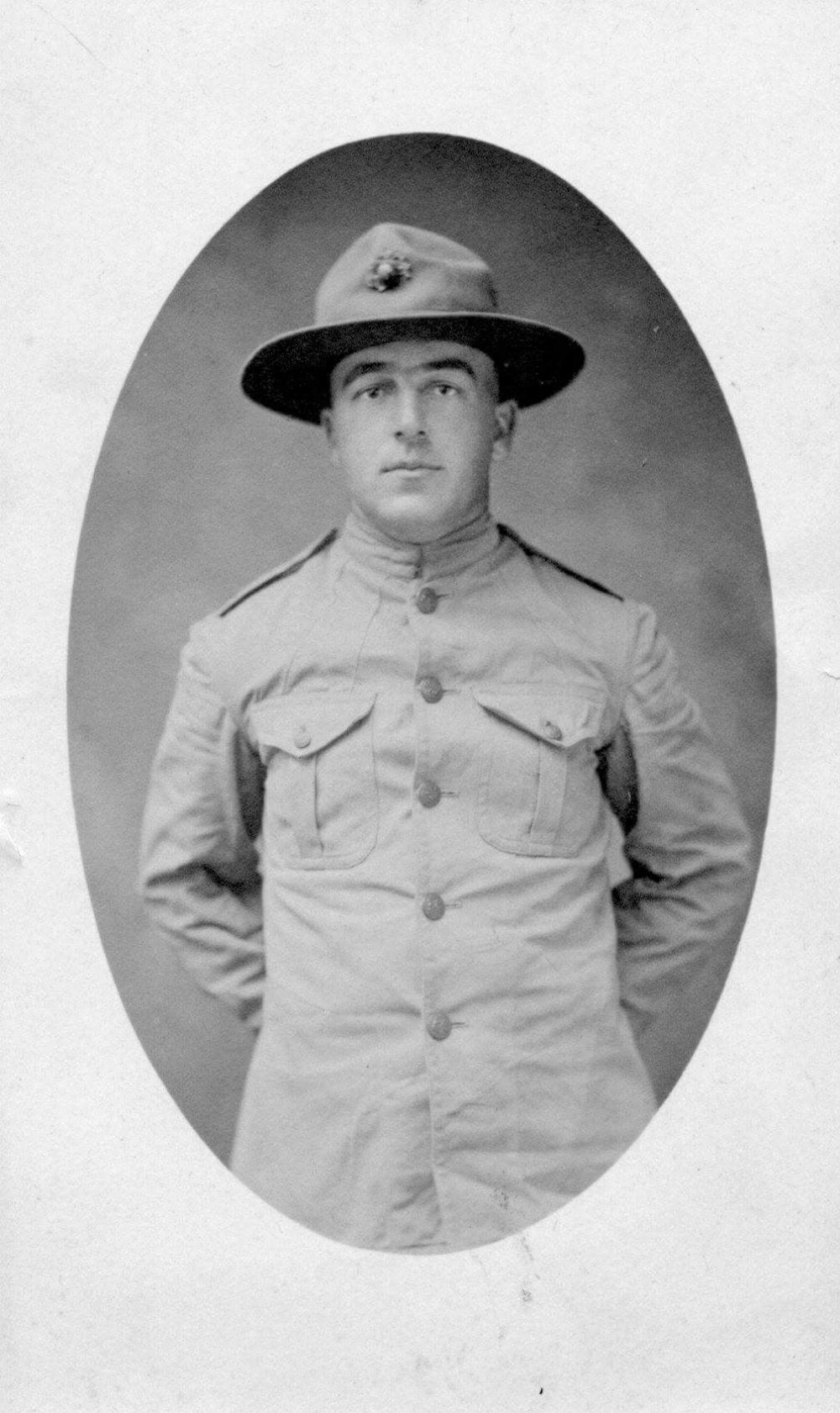 Unit:

5th Marine Division, 13th Regiment, Supply Company

Date of Birth:

July 30, 1897

Entered the Military:

May 26, 1918

Date of Death:

October 13, 1918

Hometown:

Shelbyville, New Jersey

Place of Death:

Camp Hospital 33, Brest, France

Cemetery:

Plot D, Row 8, Grave 3.

Oise-Aisne American Cemetery, Seringes-et-Nesles, France
Contributed by Ms. Kathryn Spann
Woodglen School
2018–2019
Early Life
On July 30, 1897, William "Bill" Rice Spann, Junior, was the fifth child born to William Rice and Regina McEnnis Spann in Dallas, Texas. To provide milk for his family, Spann's father bought a Jersey cow from a local farmer. This simple act changed the lives of the entire family. Due to the quantity of milk produced, Regina Spann started selling surplus milk to neighbors and their family business began. They moved to a farm to accommodate their growing family of kids and Jersey cows.
Spann's father started a business, W.R. Spann & Sons, importing cattle from the Isle of Jersey. By 1910, the family moved to a farm named Burr Oak in Shelbyville, Kentucky, in order to be closer to customers on the East Coast.
In July 1916, Bill and his father took a trip across the Atlantic Ocean to the Isle of Jersey. There W.R. Spann made a deal to acquire a prize-winning bull named Golden Fern's Noble at a cost of $25,000. Bill said, "I'll never forget when I brought Fern over." Golden Fern's Noble was an animal of such renown that three bronze sculptures were later commissioned in his honor. In 1918, the family moved again to Morristown, New Jersey to a beautiful farm, which they named Burr Oak, where their business continued to flourish.
Spann never graduated from high school, but he spent six months at Iowa State College taking a special course in scientific agriculture. He spent his youth working for the family business and gained experience as a dairy farmer and stock raiser.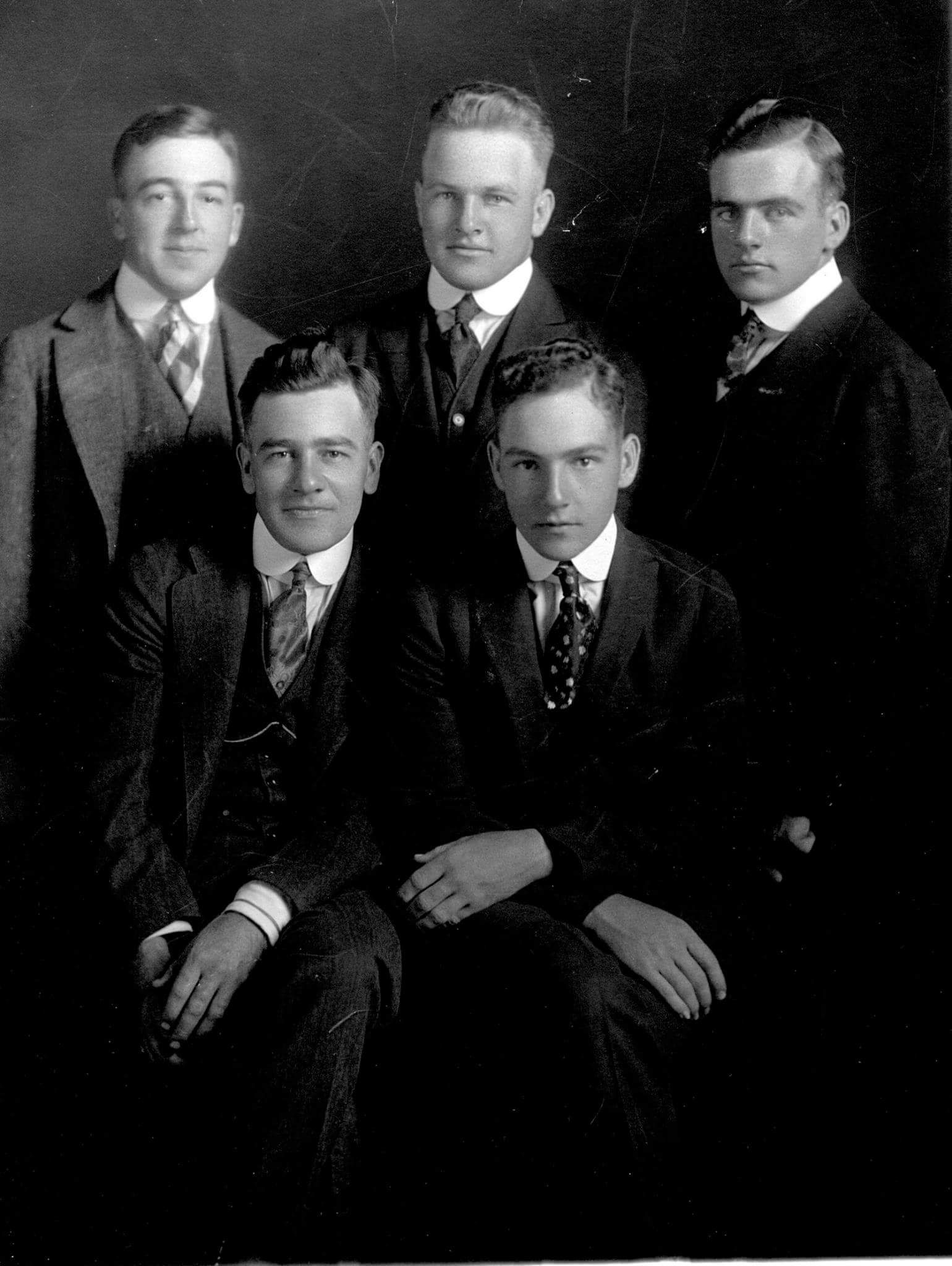 Military Experience
Following his brother's lead, Spann decided to answer the call to service. Though he wrote that he had hoped to join the aviation branch, Spann enlisted as a private in the 13th Regiment of the U.S. Marine Corps on May 24, 1918. He was trained on Parris Island (called Paris Island at the time), South Carolina from May 26 through July 9. Of the experience, he wrote, "the training here is very intense and believe me it was hot."
From there, he continued his training in Quantico, Virginia. In Quantico, he dug trenches for three weeks and spent three weeks on the rifle range and won a medal for marksmanship. Drilling was the next challenging part of the training. One day, the captain asked for men who knew about farming. Spann readily stepped forward with the idea that 'here at last was his chance to get a soft, easy berth.' For the next ten days he was tasked with hoeing potatoes!
Before he left for France, Spann wrote a letter to friends and cattle customers, and in it, he made note of Golden Fern's Noble, "Fern's sons and daughters are like the Marines, they are making history in the Jersey world." He continued by noting, "I long for the day when it is over and I can get back with the Jerseys."
As the 13th Regiment of the 5th Marine Brigade was tasked with the Service of Supply, they did not engage in combat. Upon arrival in France, the U.S. Marine Corps scattered them all across the country, sending many to guard the western coastline of France. This duty continued until July 1919 when they were reassembled in Brest, France and returned to the United States.
On September 13, 1918, 21-year-old Spann embarked on the USS Von Steuben from Hoboken, New Jersey. Influenza broke out on the ship with over 800 cases reported and 200 cases of pneumonia. Many men died on the ship. It was determined that the men were ill-equipped for the voyage, having neither heavy underwear nor extra blankets. Spann arrived in Brest, France on September 25 for duty with the American Expeditionary Forces (AEF). On September 28, he wrote a letter to his mother and said he was well and would write again soon. Sadly, his mother never heard from him again. On September 30, Spann was transferred to the Camp Hospital in Brest, France and on October 13, he died of meningitis with complications from pneumonia. The official record indicates that Spann's death was "not the result of his own misconduct," his character was deemed "excellent."
The next day, October 14, Spann's brother Paul, who was serving in the U.S. Navy, docked at Brest and learned that Spann's regiment was camped about two miles out. Paul Spann secured leave and headed over to see his brother. Upon arrival, he happened upon a chaplain and asked him about where to find Bill Spann. The chaplain had the sad task of telling Paul Spann of his brother's death. It did give some comfort for Paul Spann to learn that the Catholic chaplain had nursed his brother through his last days.
Spann's parents elected to have him buried in France and made several trips to visit his grave. One obituary noted that, "Wherever Bill Spann was known, his sterling qualities were universally recognized." When asked about his son, W.R. Spann said that, "his soul is with God." He further noted, "of course we are all broken up, but we are trying to be brave and would not have it otherwise if it required this to secure the liberty of mankind." Of his three sons who served in World War I, W.R. Spann noted that, "they all said they would rather be a 'dough-boy', and if there was anything in them they would go up."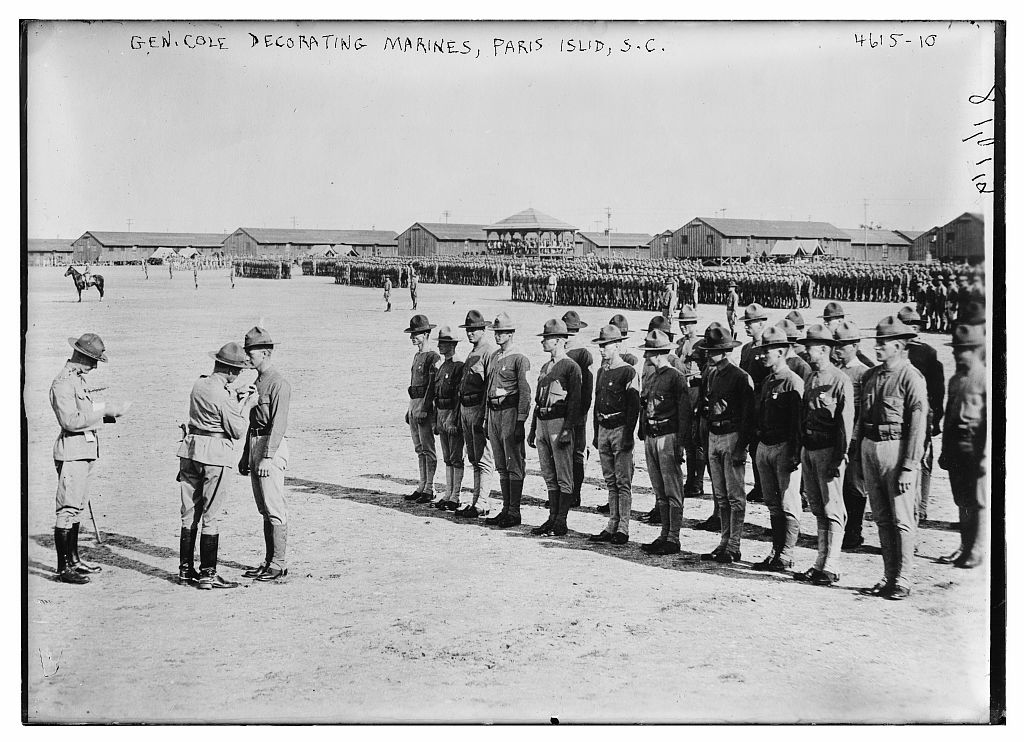 Eulogy
The Spann family posthumously received Bill Spann's Victory Medal in January 1921, which honored his service and sacrifice. William Rice Spann, Jr. was permanently buried in August 1922 in the Oise-Aisne American Cemetery, block D, row 8, grave 3. On the tenth anniversary of the 1918 Armistice, there was a dedication ceremony in Morristown, New Jersey, for a World War I memorial. This ceremony included a parade and a laying of wreaths. The memorial named the soldiers from Morris County who gave their lives in service to the country during World War I, including Private William Rice Spann, Jr.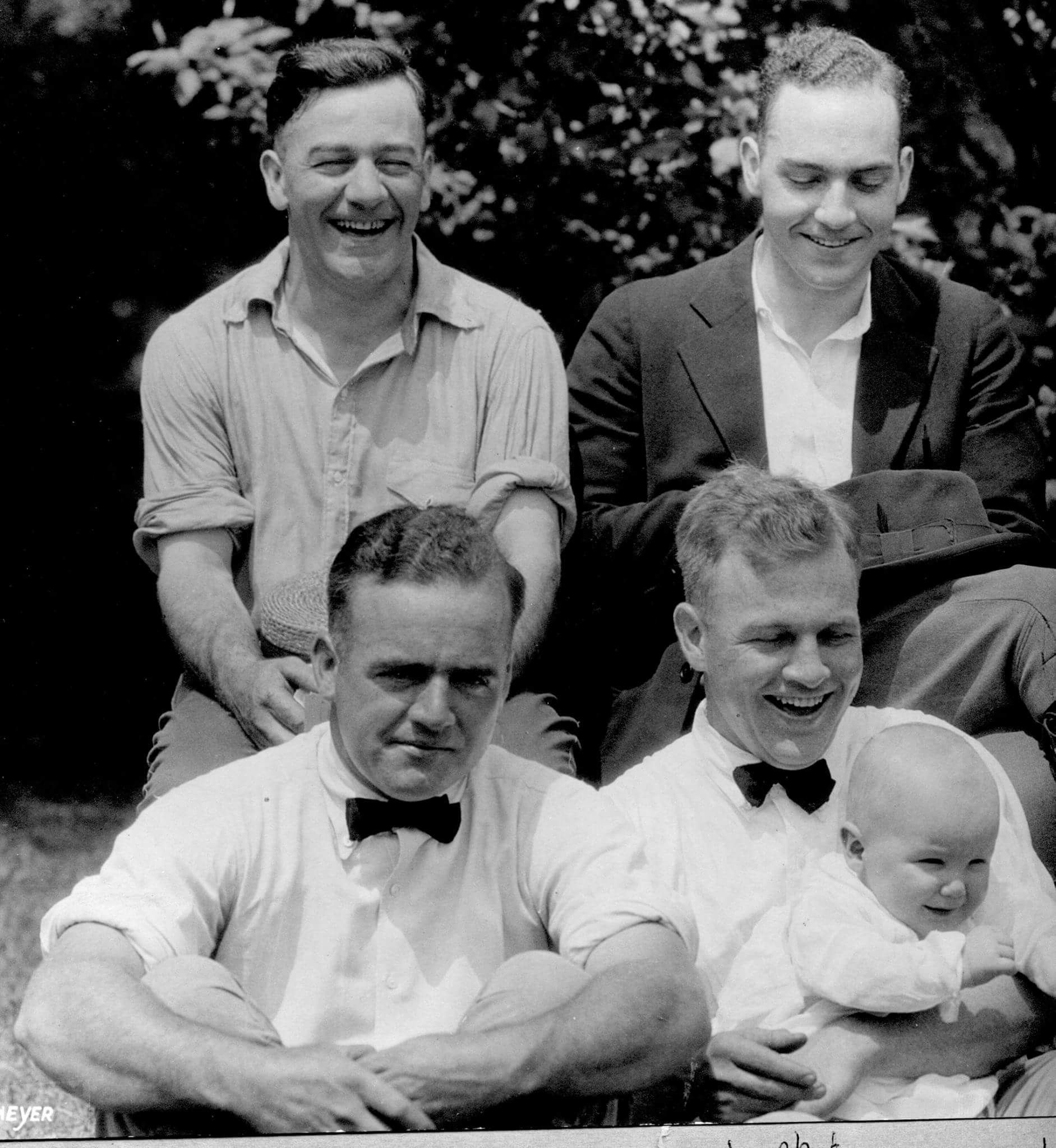 Reflection
Bibliography
Bain News Service. Gen. Cole decorating marines, Paris Isl'd. i.e. Parris Island, S.C. June 10, 1918. Photograph. Library of Congress (2014707143). www.loc.gov/item/2014707143/. Image.
"A Brief History of U.S. Marine Corps Action in Europe During World War I." World War One Centennial Commission. Last modified 2007. Accessed March 15, 2019. www.worldwar1centennial.org/index.php/usmc-in-ww1/850-a-brief-history-of-u-s-marine-corps-action-in-europe-during-world-war-i.html.
Camp Hospital #33, Records of the American Expeditionary Forces (World War I), Record Group 120 (Box 616); National Archives at College Park, College Park, MD.
"Corporal 'Bill' Spann Makes Supreme Sacrifice."  The Jersey Bulletin, November 27, 1918.
Ford, Maeve. "Remembering the Fallen: Morristown's World War I Memorial." North Jersey History and Genealogy Center. May 25, 2017. Accessed February 14, 2019. morristowngreen.com/2017/05/25/the-story-of-morristowns-world-war-i-monument/.
Frigot, Derrick. The Dairy Queen: A History of the Jersey Breed Worldwide. Jersey, UK: Royal Jersey Agricultural & Horticultural Society, 2013.
Kneser, Elizabeth Spann. Telephone interview by the author. February 16, 2019.
"Mr. 'Bill' Spann's Spirit Heroic." The Jersey Bulletin, December 4, 1918, 2026.
Records Relating to Marine Participation in World War I, 1916-1945, Records of the United States Marine Corps, Record Group 127 (Boxes 41-42); National Archives at College Park, College Park, MD.
Spann Family Photographs. 1900-1922. Courtesy of the Spann Family.
Spann Family Reunion – Dig Up Your Roots Booklet. June 25, 2005. Courtesy of Mary Jo Romano D'Agostino.
Spann, William Rice Junior. "Mr. 'Bill' Spann Writes." The Jersey Bulletin, November 13, 1918, 1916.
Spann, W.R. "The Beginning of a Rich Life: Veteran Jerseyman Turns His Talents to His Life History." The Jersey Bulletin, January 20, 1945, 86-87, 120-122.
Spann, W.R. "He Cashed Bank Draft for $2,000. Clever Story Teller Spins a Tale. Takes Trip to Island." The Jersey Bulletin, May 20, 1945, 658, 703-705.
Spann, W.R. "Nashville Was Mecca: 'Gay Nineties' in Jerseydom. Author Tells of His First Show Herd, Including National." The Jersey Bulletin, March 20, 1945, 352, 400-402.
Spann, W.R. "A Peck of Trouble: Story of Lawsuit and His Experience with An Owner That is History Never Before Related." The Jersey Bulletin, April 20, 1945, 502-503, 554-556.
Spann, W.R. "The Saga of Golden Fern's Noble in Which Just Off the Boat, He Won the 'National' Grand Championship at Springfield." The Jersey Bulletin, October 20, 1944, 1394-1395, 1486-1488.
Spann, W.R. "Spann Visits London, Jersey. Fascinating Final Story Tells of Englishman and How the Writer Fared on Island. Tribute to Perree." The Jersey Bulletin, n.d., likely June 20, 1945, 822, 858.
Spann, W.R. "When the Cattle Barons Ruled: Elder Statesman Tells About His First Jerseys." The Jersey Bulletin, February 20, 1945, 215, 240, 242, 244, 246.
Texas. Dallas County. 1910 U.S. Census. Digital Images. ancestry.com.
Ward 19, Pneumonia, Camp Hospital, 33, Brest, Finistere, France. Photograph. c. December 28, 1918. National Archives and Records Administration (111-SC-48718). Image.
William Rice Spann, Jr. World War I Burial Case File; Correspondence, Reports, Telegrams, Applications and Other Papers relating to Burials of Service Personnel, Records of the Quartermaster General's Office, 1915-1935, Record Group 92; National Archives and Records Administration – St. Louis.
William Rice Spann, Jr. World War I Burial Case File; Records of the United States Marine Corps, Record Group 127; National Archives and Records Administration – St. Louis.
"William Spann." American Battle Monuments Commission. Accessed January 28, 2019. www.abmc.gov/node/345930
"W.R. Spann Dies in Baltimore. Jersey Veteran and Story Writer Succumbs to Heart Attack." The Jersey Bulletin, [n.d., likely April, 1945], 584, 622.