Private Yeishun Allen Soken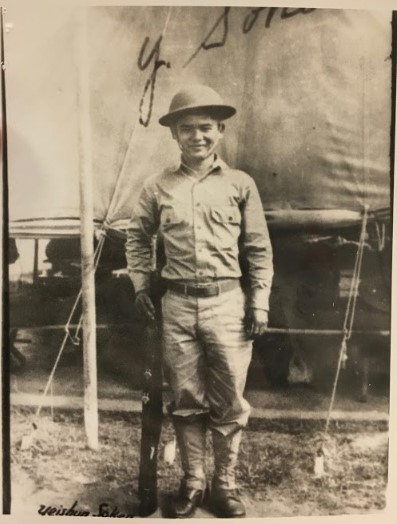 Unit:

U.S. Infantry

Service Number:

30101724

Date of Birth:

September 10, 1917

Entered the Military:

November 12, 1941

Date of Death:

January 28, 1942

Hometown:

Wailea Hakalau, Hawaiʻi

Place of Death:

Alenuihāhā Channel, in between Maui and the Big Island, Hawai'i

Award(s):

Purple Heart

Cemetery:

Courts of the Missing.

National Memorial Cemetery of the Pacific, Honolulu, Hawai'i
Contributed by Neve Enriquez
Mentored by Mrs. Kelly Uyeda
Waiakea High School
2018-2019
Early Life
On September 10, 1917, Private Yeishun Allen Soken was born in Waiakea Uka, Hawaiʻi. His parents, Sensuke and Maka Soken were Japanese immigrants. They had six children: three sons and three daughters. Private Soken was their eldest son. The Soken family lived in Wailea Hakalau on the Big Island in a neighborhood near the famous Akaka Falls waterfall attraction. They attended the Honomu Christian Church.
The Soken men worked on one of Hawaiʻi's sugar plantations. Soken earned an eighth grade education from Hakalau Elementary and Hakalau Intermediate School. After completing his schooling, he, along with his father, worked as a sugar plantation laborer at the Wailea Milling Company. During the plantation era, it was common for the older children to end their education early to help their families earn money. He held a job with the company until he entered the U.S. Army at the Hilo Armory gym on November 12, 1941. According to his records, he was 5'2'' tall, weighed 122 lbs, had a light brown complexion, brown eyes, black hair, and a small scar on his left small finger. 
Homefront
The territory of Hawaiʻi underwent significant changes when World War II began because of martial law. Due to fears that many residents would remain loyal to foriegn governments, Japanese and German immigrants faced discrimination in the United States. People of German ancestry were among the first Europeans to enter Hawaiʻi with Captain James Cook's first expedition, and German immigrants settled to establish banking firms in the 1850s.
Additionally, 40 percent of the population was of Japanese ancestry, and this community played an important role as laborers in the sugar plantations. The Japanese culture became an integral part of the local culture in Hawaiʻi. Today many Japanese customs, such as bento lunches and the tradition of honoring ancestors with Bon Dance festivals, remain key parts of the modern culture in Hawaiʻi.
Under martial law, Civilians were required to comply with strict blackout requirements, set curfew, and identification rules that affected every part of their daily lives. Additionally, approximately 2,000 Hawaiian residents were interned with 400 people of Japanese and German ancestry placed at the Honouliuli Internment Camp.
The men of the 442nd Regimental Combat Team and 100th Infantry Battalion risked their lives on the battlefields of Europe. The units were predominantly comprised of soldiers of Japanese ancestry from the mainland U.S. and Hawaiʻi. They especially felt the need to prove that they were loyal to the U.S. through their service. The 442nd Regimental Combat Team is recognized as the most decorated U.S. Army infantry regiment in history with eight Presidential Unit Citations and 21 Medals of Honor.
Civilian organizations like the Emergency Services Committee rallied the public's support and donated over $150,000 to the war effort. On the Big Island, Camp Tarawa trained about 50,000 servicemen by the time it closed in 1945.
Military Experience
Soken did his basic training at the Schofield Barracks on Oahu from November 13, 1941 to January 27, 1942. Unfortunately, on January 28, 1942, Soken was killed in action aboard the USAT Royal T. Frank transport ship. That day the Royal T. Frank sailed between Maui and the Big Island in the Alenuihāhā Channel to pick up more soldiers from Kawaihae Harbor on the Big Island. At approximately 7:00 a.m., the Royal T. Frank was attacked by three Japanese torpedoes fired at five-minute intervals. The torpedoes came from a I-71 Japanese commander submarine, the first two did minimal damage but the third landed a direct hit and exploded.
The ship carried a total of 60 people, 26 of them soldiers from the Big Island who, like Soken, completed their training just the day before. As a result of the ambush, 24 of the 60 people on board lost their lives. Most casualties occurred below deck in the explosion; however, the ship's final captain, Captain Walter Weichert, died from shrapnel that shot up above deck. The 29 survivors waited in the ocean for hours until an ammunition barge recovered them and brought them to Maui to temporarily receive treatment at the Hana School. Meanwhile, the Royal T. Frank sank to the bottom of the ocean, too deep down for recovery.
The Royal T. Frank's story remained almost entirely unknown to the general public for many years. The U.S. Army decided not to inform the family members of those involved about the specific cause of their loved ones' death until after the war. Additionally, the survivors were instructed not to talk about their experience. The files on the incident were labeled as classified information, and limited initial reporting was done. Some conspiracists even use Captain Weichert, who left various personal belongings like his wedding ring at home before the ship's final voyage, as evidence that a secret mission occurred. To date no quality evidence to support a connection between the Royal T. Frank and a secret mission has been found.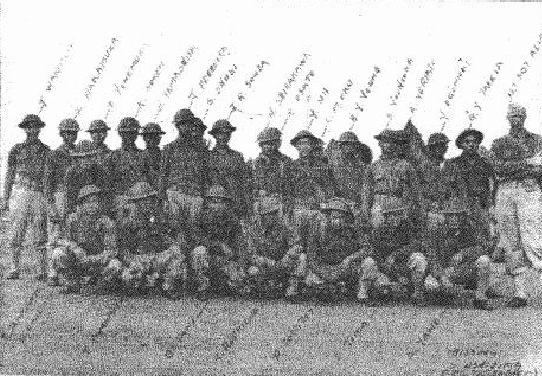 Eulogy
On January 28, 1942, 24 people lost their lives on the Royal T. Frank. They gave the ultimate sacrifice and proudly served the United States in its efforts to protect worldwide freedom. Private Soken was one of these brave souls. He died at the age of 24, and unmarried he left behind no children of his own. He was survived by his parents, Sensuke and Maka Soken, as well as his siblings, Mitsuko, Yoshio, Humiko, Mukeko, and Yoshimasu. Luckily, his nephews carry on his memory and continue to honor his sacrifice. They remember him as an ordinary man who faithfully accomplished extraordinary feats in his service with the United States Armed Forces. Soken was awarded a Purple Heart for his contributions.
Of the 26 soldiers who were aboard, nine survived and formed a close friendship group they called the Torpedo Gang. The Torpedo Gang met annually until the early 2000 to remember their shared experience of the attack and honor their comrades who perished. They have all since passed away but the Royal T. Frank's story continues to be told. In 2000, the Veterans Cemetery in Hilo dedicated a granite memorial inscribed with the names of the fallen soldiers of the Royal T. Frank and held a special ceremony near the flagpole. The names of these fallen soldiers are Yeishun Allen Soken, Iwao Nakamura, Yoshito Nh, Shoji Okido, Muneo L. Oku, Reginald Osato, John Perreira, John S. Rodrigues, Shinichi Shigi, Raymond Hiroshi Shirakawa, Bushichi Tani, Pernal C. Torrijos, Alfred Veriato, Torao Yamamizu, Albert H. Yano, Yonezo Yonemura, and Hook Yuen Young.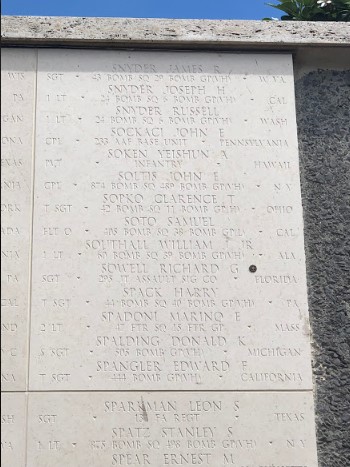 Reflection
Honoring Private Yeishun Allen Soken with the Sacrifice for Freedom®: World War II in the Pacific program has been an absolutely life changing opportunity and experience. It taught me not to ignore the history that surrounds me in real life every single day. It is easy to fall into the misconception that history is something a person needs to actively search for by reading a textbook or taking a history class. But, that is not the case. History is everywhere, the most interesting stories may lie in places previously thought of as mundane or boring.
My research and the week I spent in Oahu really enforced this belief into me. Though history is one of my favorite subjects, I can honestly say that I have never been more intellectually or emotionally engaged with history. The widespread knowledge I gained will surely leave a lasting impact on my life for many years to come. I am extremely grateful to have been a part of this program and hope that many others will also share in the privilege of having this once in a lifetime experience.
Bibliography
Primary Sources
"55 Selected For Hilo Induction." Honolulu Star-Bulletin, November 4, 1941. Newspapers.com (275104372). www.newspapers.com/image/275104372/?terms=Yeishun%2BSoken.
Hawaii Territory. Hilo. 1930 U.S. Census. Digital Images. ancestry.com.
Hawaii Territory. Hilo. 1940 U.S. Census. Digital Images. ancestry.com.
Lee, Lloyd L. In Freedom's Cause; a record of the men of Hawaii who died in the second World War. Honolulu: University of Hawaii, 1949.
Sensuke Soken. Honolulu, Hawaii, Passenger and Crew Lists, 1900-1959. Digital Images. ancestry.com.
"Yeishun A. Soken." American Battle Monuments Commission. Accessed February 2, 2019. www.abmc.gov/node/375800.
Yeishun A. Soken, Memorial of Residents of Hawaii Who Have Died in Military Service, Hawaii War Records Depository, University of Hawaii – Honolulu.
Yeishun A. Soken. Punchbowl National Cemetery; Wall. Digital Images. ancestry.com.
Yeishun A. Soken. U.S. WWII Draft Cards Young Men, 1940-1947. Digital Images. ancestry.com.
Yeishun A. Soken. U.S. World War II Army Enlistment Records, 1938-1946. Digital Images. ancestry.com.
Secondary Sources
Chinen, Karleen. "Legend of the 'Torpedo Gang.'" Japanese American Veterans Association, reprint from Hawaii Tribune Herald. Accessed May 9, 2019. www.javadc.org/ushijima.htm.
"Emergency Service Committee." Densho Encyclopedia. Last modified 2019. Accessed May 13, 2019. encyclopedia.densho.org/Emergency%20Service%20Committee/.
"Emergency Services Committee." 100th Infantry Battalion Veterans Education Center. Last modified 2019. Accessed May 13, 2019. www.100thbattalion.org/archives/puka-puka-parades/wartime-hawaii/emergency-service-committee/.
Google Maps. "Stable Camp Road." Accessed February 12, 2019. www.google.com/maps/.
Greguras, Fred. "Camp Tarawa Then and Now." Last modified March 15, 2017. Accessed March 30, 2019. historichawaii.org/2017/03/30/camptarawa/.
"Hakalau School." hakalauhome.com. Accessed March 6, 2019. www.hakalauhome.com/hakalau-school.html.
"Hawaii Nikkei Legacy Exhibit." Nisei Veterans Legacy. Last modified 2017. Accessed February 14, 2019. www.nvlchawaii.org/hawaii-nikkei-legacy-exhibit.
"Honoring the Fallen: Speakers at Memorial Day event talk of service, sacrifice." Hawaiian Tribune Herald. Last modified May 28, 2019. Accessed August 11, 2019. www.hawaiitribune-herald.com/2019/05/28/hawaii-news/honoring-the-fallen-speakers-at-memorial-day-event-talk-of-service-sacrifice/.
"The Importance of Hawaii During World War II." Pearl Harbor Visitors Bureau. Last modified 2019. Accessed March, 30 2019. visitpearlharbor.org/importance-hawaii-world-war-ii/
Krauss, Bob. "Families Talk about Losses at Sea." Honolulu Star-Bulletin, January 30, 2000. www.newspapers.com/image/266232690/?terms=Krauss%2C%2BBob.%2B%22Families%2BTalk%2Babout%2BLosses%2Bat%2BSea.%22.
Kerns, Landess. "Rare Vintage Photos Show WWII-Era Hawaii Like Never Before." Huffpost. Last modified April 22, 2016. Accessed March 30, 2019. www.huffpost.com/entry/shore-leave-wwii-hawaii_n_571809ece4b0479c59d6f6ba
"Nisei Related Stories." Nisei Veterans Legacy. Last modified 2017. Accessed February 14, 2019. www.nvlchawaii.org/nisei-related-stories.
Patrick Soken to Neve Enriquez. July 28, 2019. Courtesy of Soken Family.
Schweizer, Niklaus R. "Germans in Hawaii." Hawaii Guide. Accessed September 4, 2019. hawaiiguide.com/origins/germans.htm
"The Usat Royal T. Frank Torpedoed In Hawaiian Waters." Club 100 30th Anniversary Reunion, June 1972. 100th Infantry Battalion Veterans Education Center. www.100thbattalion.org/archives/puka-puka-parades/wartime-hawaii/the-usat-royal-t-frank-torpedoed-in-hawaiian-waters/
Von Buol, Peter. "The Mystery of the Sinking of the Royal T. Frank." Prologue, Winter 2012. www.archives.gov/files/publications/prologue/2012/winter/royal-frank.pdf.
"Wailea Milling Company." hakalauhome.com. Accessed February 12, 2019. www.hakalauhome.com/wailea-milling-company.html.